Mission, ministry and fun
September 23, 2019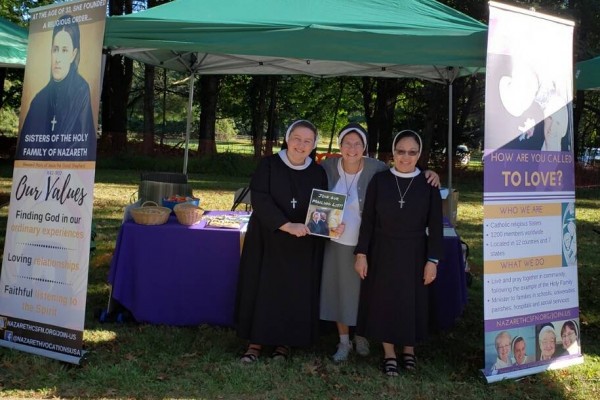 A few of our sisters spent their Saturday sharing our mission and ministry with young people and their families at AbbeyFest in Paoli, PA, near Philadelphia. This sixth annual event attracts thousands of people for a day of contemporary Catholic/Christian music, inspiring speakers, Christian vendors, food trucks, games, confessions, and prayer. A collaborative effort of St. Norbert Parish in Paoli and Dayleford Abbey, the event offers an "engaging atmosphere for children, teens, youth groups and families to experience the fullness of faith and truth of Jesus Christ" and is held on the abbey grounds.
There were over 60 venues that lined the perimeter of the fest. Religious orders and other organizations had tables sharing information about their communities and ministries. Generation Life, Marriage Encounter, Wojtyla Camp, Amigos de Jesus, K-Love Radio, the Sisters of the Holy Family of Nazareth and many more were there!
Throughout the day there were Christian musicians sharing their faith through their music. This year Mac Powell, Fire Hill Worship, Hannah Schafer, Joe Melendez, and Matt Maher energized the crowd.
The pinnacle of the day is the outdoor Mass. This year Fr. Rob Galea from Australia was the presiding priest and what a homily he delivered!
After Mass there were special prayers for those who are in formation. This was followed by an altar call. If you think there are no vocations, you have not been to an AbbeyFest. More than 100 children, youth, teens and young adults came forward feeling they might have a possible vocation. The crowd extended hands and prayed for all who had been brave enough to come forward and express their desire to serve God.
The day closed with outdoor Adoration. It is a sight to see! Hundreds of candles illuminated the great field as people knelt in worship and thanksgiving. The glow could be seen from streets away, attesting to Christ who is our light.
Pictured: Srs. Boguslawa Cofala, Mary Anthony Lovezzola, and Maria Therese Nguyen