Oct. 9: Wednesday Reflection
October 9, 2019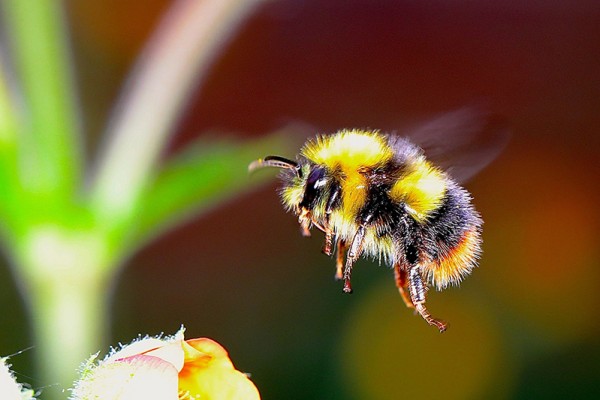 Dear Friends,
"Write down the vision clearly upon the tablets…for the vision still has time…and will not disappoint…" Habakkuk 2:2-4.
"If today you hear his voice, harden not your heart." (Ps 95:6)
"Beloved, I remind you to stir into flame the gift of God that you have…" (2Timothy 1:6)
"If you have the faith of a mustard seed…" (Luke 17:5)
All of these quotes should ring familiar, as they were part of this week's readings. As I sat in Church listening to the homily, they seemed to pop out at me. Just before Mass I had been praying for something to share with you. And, WOW I heard these words so strongly. Fr. Tom Haggerty, pastor at Saints Philip and James Parish in St. James, NY, explained during his homily that according to science the bumble bee, because of its size and wing span, should not be able to fly and yet it does. Why? Because the bumblebee doesn't know it's not supposed to be able to fly.
What about us? Do we believe we can fly or are we grounding ourselves with doubts? Are we capable of stirring into flame our lives and the lives of others? We have the potential to be able to fly no matter what logic may say. What about our commitment to holding on to the vision even though we may be amid strife and discord? The Lord will prevail, and we have the inner ability to see our vision come to completion when we believe we can "fly."
The Apostles needed to use their mustard seed of faith to grow. They were capable of so much; they just needed to get going. There was another story Fr. Tom shared. He told us that Dorothy Day was the speaker at his college graduation. She ended the commencement speech by saying, "Get kicking!" Prayer leads to action, action which the Apostles were capable of and so are we. There is that spark inside of each of us that can truly stretch us beyond what we think we are capable of.
This week, look at some of the visions in your personal life, family life, work life, and spiritual life. Do not give up on them. Stir into flame the mustard seed that is deep within your heart. And as Dorothy Day would say, "Get Kicking." You can do it!
Sister Theresita