We work toward the creation of one family in God
October 10, 2019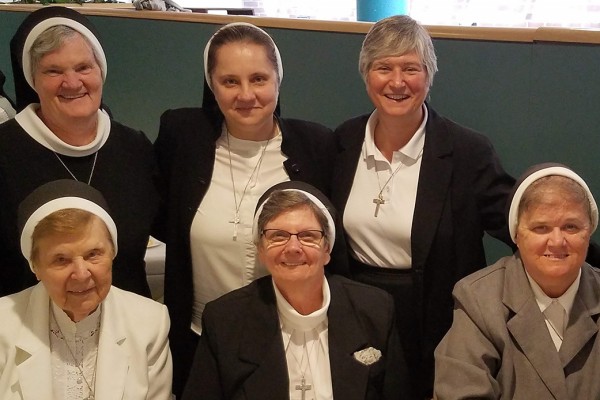 "…we work toward the creation of one family in God wherever we live and minister." --Covenant of Love, 5.3
Did you know that when you make a donation to Sisters of the Holy Family of Nazareth you help support Sr. Josephine, who counsels children, teens, and adults who have survived abuse, neglect, or other types of trauma? Sr. Josephine feels that because she is a religious sister, helping her clients heal their emotional wounds will also draw them closer to God. "I try to make space as a counselor for the Spirit of each person I counsel to heal. I think this is a way to participate in building the Kingdom of God. And, as a bonus, I get to witness the miracle of healing!"
You also help Sr. Barbara Frances's Bible study ministry. She has taught a Bible class at Jesus the Good Shepherd Convent in Grand Prairie, TX since 2006, inspiring her adult students to deepen their love for Scripture and for Jesus. "These adults are hungering to know more about their faith and how to better approach their relationship with God," says Sr. Barbara Frances. "I pray that I may continue to spread the Word the best I can."
Your generosity is also integral to the success of Sr. Gabriela, who plans to use her recent social work degree to find a position as a substance abuse or mental health counselor. Sr. Gabriela knows the rapidly changing world often leaves people struggling and in pain. "I think it's important to give people a chance to overcome their issues so they can live full lives, and counseling can help them do that."
Why do we say your donations are so important to these and all of our Sisters' ministries? Because our Sisters know they could not accomplish any of this without you and your faithful support.
You see, your generous assistance allows them to minister in low-paying or volunteer positions that will benefit families most in need and not worry about what their salary will be. What a wonderful gift this is to our Sisters, knowing they can be part of vital and much needed ministries.
With this in mind, we come to you again to ask for your help. Would you consider making a gift at this time to help support our Sisters so that they can continue to choose their ministerial works based solely on the needs of Gods' people?
We assure that any gift you are able to give is truly appreciated. We know that it is only through your consistent generosity that we can ensure that the needs of all our Sisters will be met. Please consider making a gift today through our secure online donation form.
We continue to pray for you and to thank God for you. You mean so much to all of us and we can't thank you enough for your friendship. To make a donation, please visit our DONATE page.
God bless you for caring,
Sister Kathleen Maciej, CSFN
Provincial Superior
Katherine Barth
Director of Development