Oct. 30: Wednesday Reflection
October 30, 2019
Dear Friends,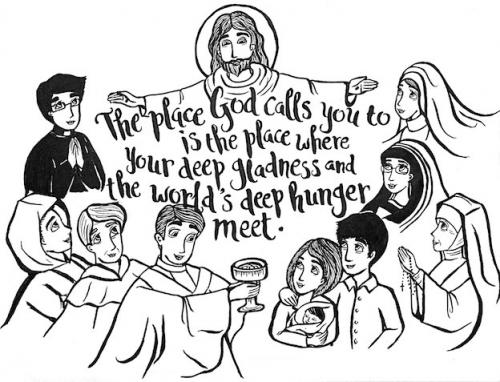 Just this week I was at the Saints Philip and James School (St. James, NY) assembly and had a few moments to speak about National Vocation Awareness Week (Nov. 3 – 9). I began by asking the students if they knew the definition of the word "vocation." Several hands went up and one student said, "It means your job." Nicholas, another student, shared, "A vocation is the purpose that God gives you to live out."
Pope Francis said in a June 1st Marian meeting with young people in Romania, "The Lord gives each of us a vocation, a challenge to discover the talents and abilities we possess and put them at the service of others." Nicholas had no Idea I was going to share Pope Francis' quote, but their words sure sound similar.
As we celebrate National Vocation Awareness Week next week, I ask you to call to mind all the vocations of the Church: marriage, single life, religious life, and ordained life. Each asks to identify our unique gift given by God for the service of others. Here are a few responses I received in response to Pope Francis' and Nicholas' quote:
Vocation of Marriage
Kevin and I were called to each other by our mutual values and ideals. Vastly different from each other, we developed a strong bond through helping others. We chose marriage to further strengthen our partnership in love. To quote Allen Hunt; "As we grow in love, we grow in holiness. As we grow in holiness, we begin to become the very people that God intends us to be." --Suzi and Kevin McNamara
Vocation of Religious Life
Ever since I was a young girl, I loved helping people. I raised money (in ways that drove my mother crazy) to help buy supplies for children in need of school supplies, sent Christmas items to children without, and gave my milk money to the missions. That is why in 1963 I was able to say yes to the call to be a Sister of the Holy Family of Nazareth. I wanted to do more and from what I witnessed in the sisters' example (community living, prayer, support, and joy), I knew that was what I wanted my life to be. And so, Jesus called, and I answered. It has been an adventure and I came to realize that the reason why I entered is not the reason why I stay. We are constantly growing. Are you being called? --Sr. Theresita Donach
Vocation to the Priesthood
Then I heard the voice of the Lord saying, "Whom shall I send? And who will go for us?" And I said, "Here am I. Send me!" – (Isaiah 6:8).
Vocation is a response to God's passionate invitation to humankind to share his agenda to preserve and save all creation. Jesus wishes all his disciples to show interest in vocation when he instructed that: "The harvest is plentiful, but the laborers are few; therefore pray earnestly to the Lord of the harvest to send out laborers into his harvest." (Matt 9:37-38).
As we support and pray for vocation, may God nurture in our homes a strong desire for our children to serve God among his people. God is extremely grateful to all who generously offer themselves to respond to this call. --Fr. Patrick Osei-Poku
Vocation to the Priesthood
Jesus was the center of my parents' lives. They both told the five of us how he brought them together in a very funny, life-giving, adventurous way. They were happy. They were real, exciting and fun. My parents' generosity of service and desire to have us meet and know Jesus was reinforced in St. Frances de Chantal School and in our parish community. It became a no brainer.... I wanted to come to experience the Source of such joy. I began to want to follow Him... give myself to Him and He captured the imaginings and dreams of my heart.
A favorite quote I read in a magazine says: "God comes disguised as your life." It happened for me.... Through the many people who inspired me, I came over time to hear Jesus say, "I've come to you in them... because I want to invite you to live with me in this way... trust me, Tom. Let me help you say with your life what I said with Mine... this is my body given for you over to 'our' people. You too will be broken and poured out... but I will be your strength and forever renew your spirit." Thank you, Lord! It's continues to be quite an adventure. --Fr. Thomas Haggerty
Thanks to my contributors! Perhaps this week you may want to call or write to someone special in your life who is living out their lives to the full potential of their vocation. Then, perhaps, you can consider where you are being called. Have a great week!
Till next week,
Sister Theresita