Take time for gratitude
November 20, 2019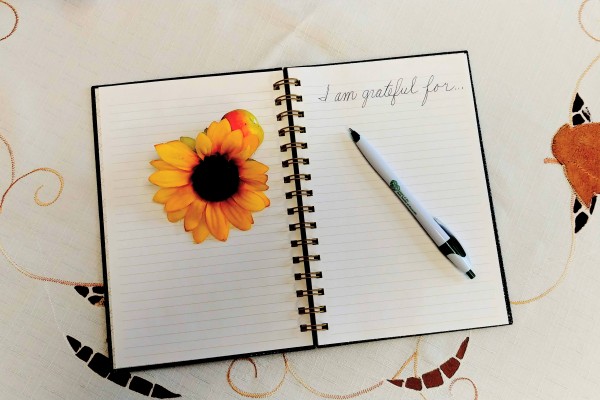 by Sr. Xavier Kozubal, CSFN
Sometimes when things are not going well, we slip into negative thinking and our spirits feel down. This can influence how we see life and relate to others. That's when it's time to do something positive. Some of us do something negative like eat junk food or isolate. We all have times when we feel like there's a cloud hanging over us. In the musical The Sound of Music, there's a line that says, "I simply remember my favorite things and then I don't feel so bad." I think that's good advice. We need to think of something positive.
Oprah Winfrey keeps a gratitude journal where she writes things for which she's thankful. If we had a gratitude journal, on a down day we could take it out and read it. This would lift our mood. So, start today or on a retreat day. Make a list of people, places, things, and events in your life for which you're thankful. List the things about your life that you like and create a litany of thanksgiving.
Looking at pictures of happy moments in our lives can be helpful, too. We want to create within ourselves an attitude of gratitude. When we recall all the things for which we're grateful, our bodies relax and our mood perks up. We sometimes forget the blessings we've experienced in our lives. Take time to count your blessings.
In an article entitled "Boost Your Health with a Dose of Gratitude," Elizabeth Heubeck suggests that giving thanks makes us healthier. Grateful people have less stress, are more optimistic, and take better care of themselves. Optimism boosts the immune system. It even helps us sleep better, if we recall the things we're thankful for before going to bed.
This year instead of celebrating a day of Thanksgiving, let's make it a daily practice to recall the things for which we're grateful. This will help us develop an attitude of gratitude. Whenever we take a moment to reflect on what we appreciate, we are brought into alignment with the Divine Source of all our blessings. Everyone we relate to will experience the benefit of our positive thinking. The world will be a better place because we have an attitude of gratitude.
* * *
Sr. Xavier earned a PhD in Human Development from the University of Maryland in 1975 and writes a monthly "On Wellness" column for our sisters. She entered the Sisters of the Holy Family of Nazareth in 1960.