Thank you to all who joined us for Family Day
November 21, 2019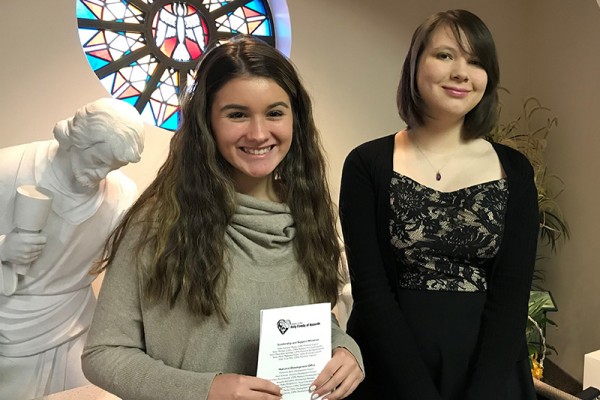 A special thank you to our friends who joined us on November 3 for Family Day at Jesus of Nazareth Convent (Mount Nazareth) in Philadelphia. And, congratulations to the Sr. Michaelann Delaney Tribute Grant recipients who were announced at the event: Grace Adamchak, a student at Nazareth Academy High School and Olivia Bigboy, a student at St. Hubert High School for Girls. In a thank you to our sisters, Olivia wrote, "It is an honor to receive this gift, especially with college application fees and senior year fees. It is a great help…"
This year's "pay it forward" recipients were also announced during the festivities. Margaret and Edward Petner, relatives of the late Sr. Justine Petner, CSFN, and longtime friends of our sisters, received this year's $5,000 grant which is awarded to a person(s) or organization who exemplifies Sr. Michaelann Delaney's virtues of compassion, love, and service toward others (Sr. Michaelann passed away in 2002).The Petner's chose to donate the $5,000 grant to Children's Hospital of Philadelphia – Neonatal Intensive Care Unit.
When introducing the Petner's during the ceremony, Sr. Carol Mockus, CSFN, philanthropic gift advisor, said:
"Service to others comes naturally to them [the Petner's]. They are always the first to lend time, talent, and support to those in need both in the past and in the present. They are unsung heroes who live their lives for others without asking for recognition or praise. This is probably the most identifying similarity that they share with Sr. Michaelann: [they are] always there to serve without being asked... Most of all, like Sr. Michaelann, they have passed on these virtues to their children, Eddie and Megan, as well as their grandchildren, Michael, Megan, Maggie, and Tori, with the spirit of living a life for others as Sr. Michaelann did for all of us and all those she came in contact with during her lifetime."
Congratulations to this year's honorees and many thanks to all those who help support our mission to serve families.