Dec. 18: Wednesday Reflection
December 18, 2019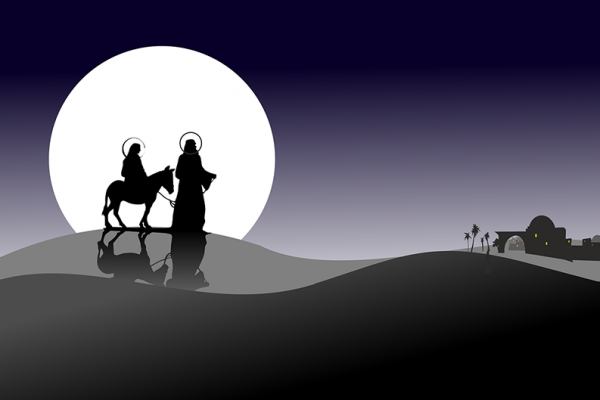 Dear Friends,
God truly knows when to show up in so many different ways. For example, I was getting ready to do this week's reflection when I received a call from my sister. I am always glad to hear from her. This time she called to tell me about a song she was listening to that raises her spirits. She thought I might like it as well. It was Toby Mac's song "Move (Keep Walkin)". (You can watch it on YouTube by clicking on the link). Not only is it a great song, but I think it also fits right in with Joseph's journey to Bethlehem.
The last two weeks I have been sharing with you who Joseph was, looking at the person and his interior life. This week, for the third Sunday of Advent, I'd like to share with you Joseph and Mary's journey to Bethlehem. Joseph knew that the census was a part of God's plan and so as provider, protector, and husband he began to plan their trip to Bethlehem. There were many concerns as the trip would be strenuous for Mary. Joseph likely was wondering, "Do I have enough money and supplies? Will Mary make it to Bethlehem to deliver the baby, or will it happen on the way?" Then there were questions once they reached Bethlehem: Will there be room? How will Mary feel? Where shall the baby be born?
So many concerns and yet Joseph and Mary set out for that six day journey that would take them nearly two weeks. Placing their trust in God, they travel each day knowing that God is with them. But the human body does get weak. Many a time during the journey, Joseph glances back at Mary and her smile gives him the energy that he needs to continue on. In the evening, as they share a meal and their conversations center around how different their lives will be once Jesus is born, they continue to trust in God's plan. That last assent up the rugged road to Bethlehem made Joseph just stop and look. Every bone in his body ached and he knew that Mary had to be very uncomfortable as the time of birth was very close.
Perhaps they would have been encouraged by the words from Toby Mac's song:
I know your prayers ain't been answered yet
I know you're feeling like you got nothing left
Well, lift your head, it ain't over yet, ain't over yet so
Keep walking…Keep moving…Hold on, hold on, Lord ain't finished yet,
hold on, hold on
He'll get you through this, hold on, hold on,
These are the promises, I never will forget I never will forget …
Place yourself in Joseph's situation. Have you ever found yourself in a place where you felt like you couldn't keep moving on, where life seemed like an uphill battle? Who did you turn to for support and encouragement? Name that person and keep them in prayer and know that reaching out to God with a shout of "God, I need you; I can't do this alone" is not a bad idea as well. I pray you have a joyful week as we get closer to the birth of Jesus. Don't let the crazy stuff steal your joy -- I'm trying to work on that myself!
Till next week,
Sister Theresita