Wow, I just married Jesus
December 24, 2019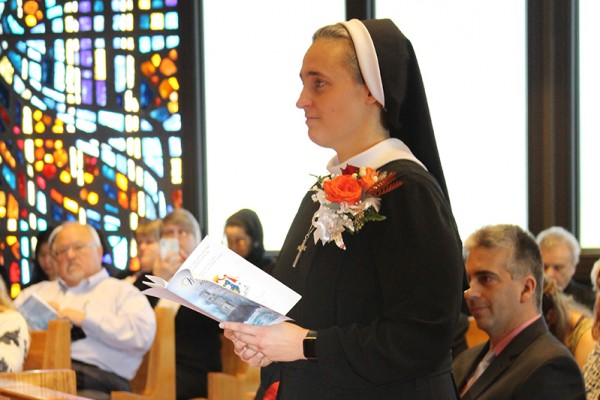 For Sr. Faustina Ferko, this year's Thanksgiving weekend was more than a time to share turkey and pie with family and friends. This year, on the Saturday after Thanksgiving, in the quiet tranquility of the chapel at Jesus the Good Shepherd Convent in Grand Prairie, TX, Sr. Faustina professed her final vows as a Sister of the Holy Family of Nazareth.
"I think it was appropriate that the vows took place during Thanksgiving," she said, still bubbling with the enthusiasm of a new bride, "because my heart is so full of gratitude for Sr. Angela Marie [general superior], the provincial council, Sr. Kathleen, [provincial superior], all the sisters who were a part of my formation – Sr. Ellen, Sr. Marie, Sr. Edyta, Sr. Gemma, Sr. David, Sr. Barbara Jean, Sr. Michele Vincent -- and all the sisters in Texas who made the day so beautiful for everyone."
It's been a long journey for Sr. Faustina from the first whisperings of God's call nearly two decades ago to her final vows on November 30. She first encountered the Sisters of the Holy Family of Nazareth in high school when she met Sr. Trina Marie Ulrich in Erie, PA. The two had an opportunity to discuss vocations during Sr. Trina Marie's apostolic visit to Sr. Faustina's parish. Then, during a college pilgrimage to Rome in 2000, Sr. Faustina walked in on a beatification Mass for the Martyred Sisters of Nowogrodek (Blessed Mary Stella and her 10 Companions) and others. She was surrounded by hundreds of sisters. The beautiful moment so inspired her that she told one of the friends traveling with her, "I want to be a Sister of the Holy Family of Nazareth just like them."
Nineteen years later, now standing among her friends, family and sisters, including Sr. Angela Marie Mazzeo, general superior, who traveled from Rome for the ceremony, Sr. Faustina finally became "just like them," a fully professed Sister of the Holy Family of Nazareth (CSFN). In keeping with the CSFN tradition which began with our foundress Blessed Mary of Jesus the Good Shepherd (Frances Siedliska), each sister chooses a "mystery" of the Christian faith most significant to her life. That mystery is added to her name. On November 30, Sr. Faustina became Sr. Mary Faustina of Eternal Love of the Sacred Heart of Jesus.
The years of initial formation, from a postulant in 2011 through temporary vows in 2014, have brought much growth for Sr. Faustina. Looking back, she sees a lot of joy in the growth along with many challenges. "In the evaluation process in formation, you come to understand yourself in a deeper way," she explained. "There are growing pains as you come to better understand your weaknesses and form a total dependence on God."
There also has been the opportunity to learn to live in community with other sisters. "I think that God gives you all the graces you need when he calls you to something," she said. "It's the same for community living. I've been blessed to have good communities and good superiors." She admits that "nothing is perfect in community life" and that part of the growth process is learning to love each other through the struggles. "I've always felt very loved and supported by the community," she explained. "I've been blessed to be among women with so many years of experience. They are a source of wisdom for me."
And her parents, how do they feel about their daughter becoming a Catholic sister? "I think at first my mom was sad that she wasn't going to have the mother-daughter bond of me having her grandchild. As the years have gone by and she has seen how happy I am and how committed I am, she has been transformed." Her dad, on the other hand, has always been "gung-ho." According to Sr. Faustina, he thinks it's "so cool" that his daughter is a nun.
With her vows and the whole "euphoric experience" still fresh in her heart and mind, Sr. Faustina says she'll be "unpacking" the experience in prayer for a while. "I'm realizing: Wow, I just married Jesus."
Sr. Faustina will continue to serve as director of youth ministry at St. Raymond Church where she works with 200 – 300 children in grades 7 -12 helping to guide them as they open their hearts for God.
. . .
Is God calling you to religious life? Visit our Become a Sister page to see if your path is leading you to God through religious life.