Jan. 15: Wednesday Reflection
January 15, 2020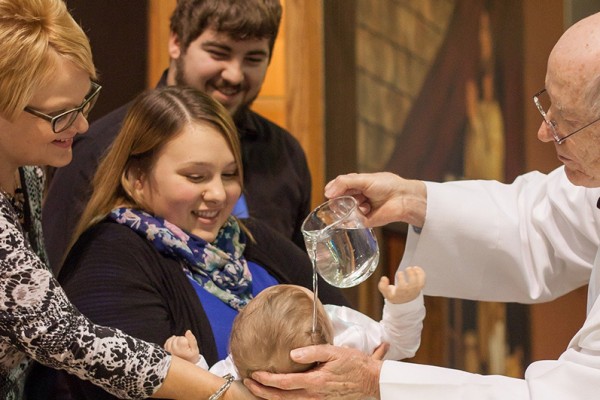 Dear Friends,
Don't blink, my friends, or you will miss the rest of January. Can you believe we are halfway through the month? Time flies by when you are having fun. Speaking of fun, I bet all of you know your birthdays and those of your significant others. Silly question, but do you know the date of your baptism? My guess is that many of us will say no. Here's an even more challenging question: Do you celebrate your baptismal day? I finally found out my baptismal day and now try and celebrate in some small way.
I came across a story about Helen Keller the other day. Until she was seven, Helen scarcely had more than an animal existence. Then, something happened: Her teacher led her to some water and as one hand felt the cool water the teacher spelled the word water into Helen's other hand. The mystery of language was revealed to her, and all things took on a different meaning. Helen's new life opened because of the experience of water, a teacher who cared for her, and a supportive community. Doesn't this sound a lot like the sacrament of baptism? Helen's experience opened a whole new physical world for her, just as baptism opens the spiritual world to us. Our birth opens us up to physical life and baptism opens the spiritual world to us, simple as that.
Our baptism is the beginning of our spiritual life. We receive that gift of the Holy Spirit and there is no turning back. Since many of us were baptized as infants, we can forget the powerful impact this sacrament has on us. We are called into a community that strives to follow the example and life of Jesus Christ. That is why sponsors and family life are so important in the early years of a child's life.
But now what about us? Do we remember that our baptism starts us on a journey, and we need to continue that journey and grow in age and wisdom? The Holy Spirit is constantly with us offering comfort, support, and courage to live out our commitment. Do we believe that? Do we think about it? Do we do our best to bring the Good News of our faith life to others? It is a challenge. We are called to imitate Christ. Do we bring people to light or darkness?
This week take a good, hard look at your understanding of the sacrament of baptism, of your own baptism. What effect does this sacrament have on your spiritual life now? What has it led you to? Have you decreased so Christ can increase? Lots of questions that only you have the answers to. Why not try and experience some different forms of and places with water this week?
Till next week,
Sister Theresita