A Day of Service for Rev. Dr. Martin Luther King, Jr.
January 21, 2020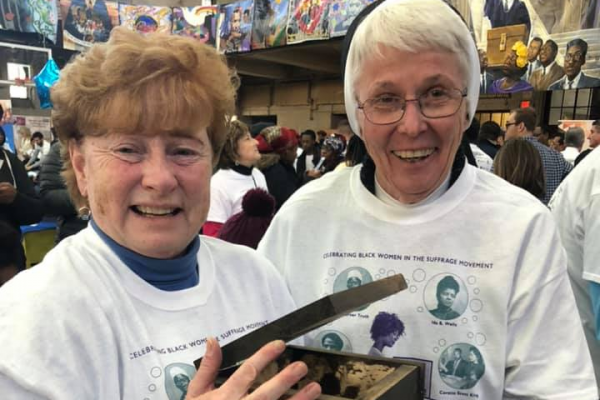 Holy Family University, a sponsored ministry of the Sisters of the Holy Family of Nazareth, partnered with Global Citizen for the annual Greater Philadelphia Day of Service honoring the legacy of the Rev. Dr. Martin Luther King Jr. which was held at Girard College in Philadelphia, January 20. The event provided administrators, faculty, staff, and students with the opportunity to celebrate the life of Dr. King through serving others.
Holy Family University was one of 40 businesses and organizations to sponsor the event, the largest of its kind, which brought together thousands of volunteers and hundreds of charitable organizations.
The Holy Family contingent left campus at 7:30 a.m. Upon arrival at Girard College, the group assisted with a multitude of activities including packing food for the poor, preparing voter and 2020 Census packets, building boxes to collect 2020 Census commitment cards, working with AmeriHealth Caritas to sort, fold, and handout professional clothing, and hosting a carnival for children in the neighborhood.
Students at Nazareth Academy High School, also a sponsored ministry of the Sisters of the Holy Family of Nazareth, honored the legacy of Dr. King by preparing breakfast bags for the organization Caring for Friends. Formerly known as Aid for Friends, Caring for Friends provides food and friendship to homebound seniors and disabled, the homeless, and families in need in the Greater Philadelphia area.
Nazareth Academy High School Campus Minister Shannon Donnelly organized the service event. Students met in the high school's student dining room and assembled the care packages which also included personal notes of encouragement for the recipients.
A third MLK Day of Service opportunity was helping at Mount Nazareth (Jesus of Nazareth Convent). Sr. Angela Creswell, CSFN, accompanied by Holy Family University secretaries Patricia McAnany and Christine O'Neill, assisted our sisters on the second floor infirmary at mealtime. The trio also spent time visiting with the retired sisters and aided Sr. Evangeline Sullivan, CSFN, local superior, with some house projects.