Faith and service on Long Island
January 23, 2020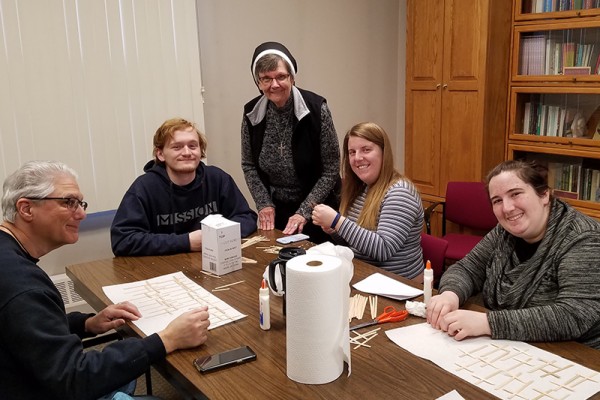 For the ninth consecutive year, students from the Newman Association at Allegheny College in Meadville, PA sacrificed part of their winter break to spend a week praying and working with our sisters. In past years, the group has traveled to the provincialate in Des Plaines, IL. This year they journeyed to Wading River, NY to share time with sisters at St. Theresa of the Child Jesus Convent.
Arriving on Saturday, January 4, they were greeted by Sr. Theresita Donach, CSFN, along with Fr. Tom Haggarty, pastor at Sts. Philip and James Parish in St. James, NY, and Virginia Portanova, the parish's business manager who had prepared a wonderful dinner for the group to enjoy. After dinner, the three students (Vicki, Luke, and Robin) along with Deacon Ed Horneman, the Newman adviser, settled in at a local hotel for their stay.
The students' week included assisting Sr. Ellen Zak, CSFN, with Lenten preparations and cooking lunch and dinner for our sisters at St. Theresa of the Child Jesus Convent. With the assistance of Michael D'Onosrio, an Associate of the Holy Family and owner of Michael Anthony's Catering, the students created what Sr. Theresita described as "meals fit for five star restaurants."
That same quality preparation and service also was offered the next day to the residents at Echo Arms Adult Home, a care facility for seniors in Port Jefferson Station, NY. Creating another "five star restaurant" dining experience for the residents, the students along with Michael D'Onosrio prepared lunch and dinner with salad, turkey, steak, and other tasty treats. From 10:30 a.m. to 6:00 p.m., the Allegheny students not only helped with food preparations, but they also played bingo, sang songs, and were a prayerful presence among the residents.
This week of service for Vicki, Luke, and Robin included a day at Sts. Philip and James School reading to preschool through second grade students and organizing the school's uniform closet.
Though the focus of this trip was service and prayer, the students also had an opportunity for a day of fun in New York City.
While this year's group was smaller than in years past, Sr. Theresita believes the smaller number was a wonderful opportunity to see how to organize this service week on Long Island.