A message from Sr. Kathleen, provincial superior
March 26, 2020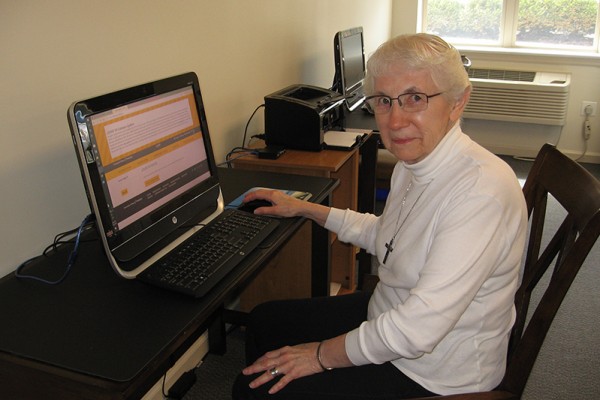 Dear Friends of Nazareth,
The phrases "shelter in place" and "social distancing" have become all too familiar to us in the recent days. As the world tries to navigate this chaotic new era of a global pandemic, many of us are experiencing fear and uncertainty. We don't yet know the long-term impact this will have on us as individuals, as a country, or as a global community. But in spite of this, we still have hope in our God and we trust that He will guide us safely through these challenging times.
Today, and throughout this crisis, we extend our most heartfelt prayers and sympathy to our friends, family, and colleagues who have been affected by the virus.
We also would like you to know that all of our sisters in the U.S. are sheltering in place, even in states where this policy has not yet been mandated. They are also practicing social distancing.
Each day, our sisters pray for protection for you and your families and for an end to this virus. We also are attentive to the needs of our sisters with whom we live, setting aside quality time for conversations with one another, watching movies, playing games, and telling stories. Together, in each of the convents, we are creating experiences to generate Nazareth joy as we live the spirit of Jesus, Mary, and Joseph, whose lives were centered in the love of God and one another.
To stay connected with all of you and to continue to spread the Kingdom of God's love, we are using Facebook Live to share our Holy Hour each day at 4:00 p.m. CT. Go to our Facebook page (@csfn.usa) to join in each day. We have created a Facebook prayer group, CSFN Prayers for Love and Hope, as a way to offer connection and spiritual support to each other during this trying time. You may also send us your prayer requests through our website at Prayer Requests.
As we journey through this strange new world, we ask you to join us as we pray for those who are ill due to coronavirus; for those who are caring for the ill; for families, individuals, and businesses facing economic concerns; for those who are alone; and, for all those struggling with anxiety and fear. Together we pray:
God of Love and Mercy,
Help us all to do our best to find creative ways to care for one another. Remind us to take the time to check on family, friends, and neighbors and to be as generous as we can be to those in need. Give us the strength we need to do our part to foster love and community during this pandemic and to assuage our fears and frustrations during this difficult time. Amen.
In the Holy Family,
Sr. Kathleen Maciej, CSFN
Provincial Superior
Photo: Sr. Rosarita Liebchen, CSFN, engaging her students in online learning while she shelters in place.