Spring, 2020 – A poem for our times
April 8, 2020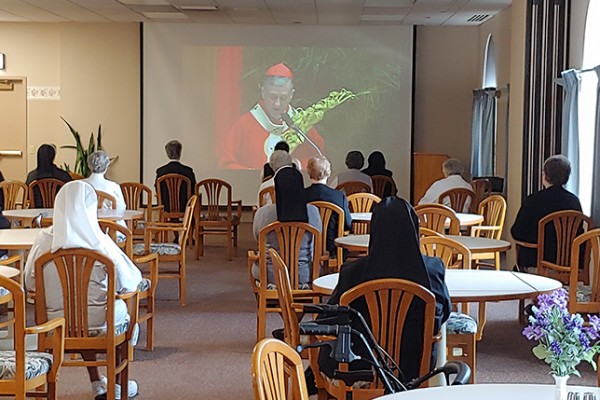 As we prepare for a very different Holy Week, our provincial secretary, Sr. Mary Ellen Gemmell, shares this poem that calls us all to unite in prayer as we praise God "via satellite." (Photo: Sisters at the provincialate in Des Plaines watching Mass with Cardinal Cupich, Archbishop of Chicago.)
Spring, 2020
2020 now sees Spring,
Nature's music and life emerge
Yet families weep and leaders cringe
As Corona's numbers surge.
All nations strive to curb the spread
And calm all people's fears
Yet cases grow and numbers sour;
Losses are severe.
Unemployment! Funds are scarce;
"Shelter-in-place" enacted.
All on alert to cleanliness
And never get distracted!
Reports continue, materials – scarce;
Calls for help abound.
Creative minds unite as one -
Some solutions found.
Crowds, a danger; Churches closed!
Processions and group prayer disrupted!
Who would have known that the Internet
Would allow our prayers to be conducted?
Masses livestreamed; "Stations" on Youtube;
All Christians today, unite!
We pray together this Holy Week
Praise God, via satellite!
2020 now sees Spring
In Faith we all expressed.
Our need for You; our cry anew
That humankind be blessed!
(Sister Mary Ellen Gemmell)