April 8: Wednesday Reflection
April 8, 2020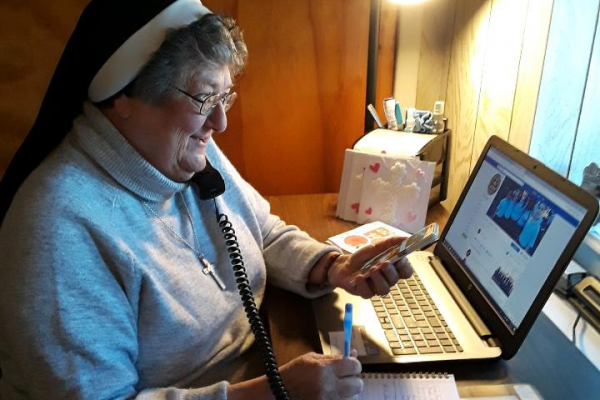 Dear Friends,
Can you believe it? We are now in Holy Week! Apologies for stating the obvious, but if you are anything like me sometimes you find yourself asking what day it is. Our current situation of sheltering in place has made me lose track of days and time. Who would have guessed that when we began Lent and were invited to go into our room, close the door, and pray to our Father in secret (Matthew 6:6) that we would be doing those things, literally? Did we ever think what those words in Matthew would mean when we made our Lenten plans? Did we ever think that we would not be together celebrating Holy Week and Easter? It wasn't in our plan.
It is amazing how when I reflect on my plans for Lent, they didn't include staying put and being isolated. Change is difficult and even more so when we don't initiate it. It requires trust in God knowing He will always be there. In a recent reading from Joan Chittister's book Aspects of the Heart, she writes, "Not even the spiritual life is changeless. On the contrary, nothing really requires more humility from us then the willingness to open ourselves to the unknown so that God can complete in us what has been begun."
During this time of the coronavirus pandemic, we have experienced many changes in our family life, work/ministry life, social life, and Church life. As I look at the upcoming Triduum, I realize that those days will take on new meaning, new experience, and will require a change in place and attitude. How can I make this a positive experience for myself? There are so many resources available on the internet, TV, etc. You have perhaps been using them all during Lent. (Our website for the U.S. province of the Sisters of the Holy Family of Nazareth has many prayer and sharing opportunities available. Check out the Stay Connected with Us page.)
The days ahead will take on new meaning, if we allow them to. Where do we see the similarities of Jesus' passion and the passion of those suffering from the virus, of those who feel isolated and alone, of those suffering from lost jobs, of those who are care for the sick and yet are worried about their own families? Take advantage of the quiet time that has been given us and reflect on how this Lent has been different and how your heart and attitude may have changed. Pray for a renewed spirit of hope and courage to move in the direction God is calling you. Like the Crucifixion, it may cost tremendously. Are you willing to take the journey?
My prayer for you this week is that you are able to be present to the passion of Jesus as well as that of our suffering world today. Together, let us look forward to the Resurrection, for it will surely come -- Jesus has promised it!
Till next week,
Sister Theresita
Photo: Sr. Theresita staying connected with those she serves while safely sheltering in place.