Congratulations Class of 2020!
May 28, 2020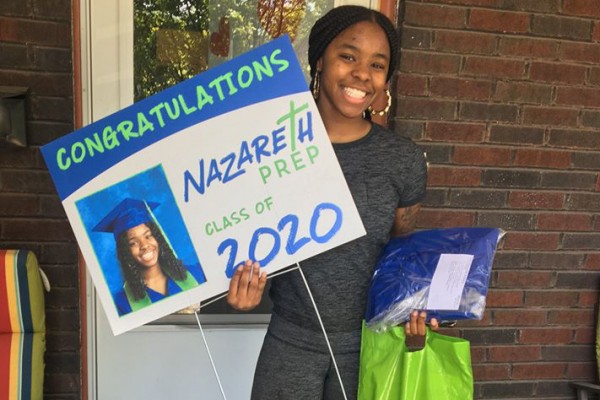 For the Class of 2020, the pandemic has brought a disappointing and frustrating end to years of dedicated work. The reality of our current circumstances forced these graduates and their families to exchange the excitement of the much anticipated "Pomp and Circumstance" for virtual baccalaureate Masses, drive-in graduations, and solitary photos in cap, gown and face mask. While these students are not experiencing the traditional celebrations of this right-of-passage, we pray that they will be remembered and applauded for their perseverance and creativity as they embraced these last few months of their education with courage and grace.
Like other schools across the U.S. and around the world, the educational institutions sponsored by the Sisters of the Holy Family of Nazareth, quickly shifted from face-to-face classrooms to online learning as school districts and dioceses closed their physical doors. Students, teachers, and parents adapted to these different learning environments that both challenged and encourage them to discover new ways of encountering educational opportunities.
We applaud the students and the teachers who put their hearts and souls into this new learning environment. We applaud the parents, family members, and friends who helped support the students and teachers as they engaged in distance learning. And, we most especially applaud all of the graduates and their faithful efforts to learn and grow in extraordinary circumstances.
Please join with us in applauding the accomplishments of the Class of 2020, especially those graduating from Nazareth Prep in Pittsburgh and from Nazareth Academy Grade School, Nazareth Academy High School, and Holy Family University in Philadelphia. We pray for the continued success of the graduates as they carry their Nazareth education with them into this new world.
To celebrate the Class of 2020, we invite you to watch these videos from Nazareth Prep, Nazareth Academy High School, and Nazareth Academy Grade School, featuring their graduates. We also invite you to listen to a special message to the Class of 2020 from Sr. Maureen McGarrity, CSFN, President of Holy Family University.
NAZARETH PREP (Nazareth Prep's official graduation video will be available after June 4th)