On Wellness: Coping with the Pandemic
June 25, 2020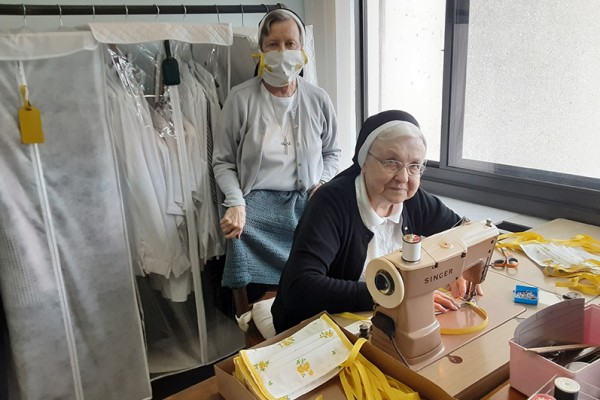 By Sr. Xavier Kozubal, CSFN
In the past few months, we have been facing experiences and events that have been frightening. We have been asked to live in a new way, staying at home and avoiding contact with others through social distancing. Our lifestyle has changed and many are dying. How do we cope with all of this? There is tension in our society over businesses shutting down and unemployment. People who had been economically stable are waiting in food lines. We want all of this to end and feel normal again.
Many who took their lives for granted find the new developments causing worry and anxiety. It's different from just having a tense day and doing something to relax. It's ongoing stress for many that doesn't seem to have an end or solution. And many are grieving the loss of loved ones. We need to find ways to reach out and support one another. We need to find ways to calm our tension. Seeing the latest statistics on the news doesn't help.
While staying at home and social distancing are important, we need to connect in some way with loved ones and friends. Whether it is e-mail, telephone, or Zoom we use, we need to support and reassure one another. Some feel isolated and need to hear from us. We can calm one another's anxiety and fear.
We also need to minister to ourselves. Maybe soaking in a hot bubble bath or listening to relaxing music can help to relieve the ongoing tension. Prayer and meditation can also reassure us. The world definitely needs prayer and with churches closed or restricting attendance, many are relying on television to provide experiences of Mass, the Rosary and the Chaplet of Divine Mercy.
Think of people who are alone who may need to hear from us. Think of ways we can give ourselves social stimulation. Think of ways we can help someone in need. Even though we are experiencing separation, this is a time to unite in new ways. Making and donating masks, contributing funds to organizations that are helping, preparing a meal for a neighbor are just some ways we can show we care.
Times of crisis can help us to grow in new ways. We may find ourselves doing things we would not normally do. I ask the Holy Spirit to inspire us to minister to ourselves and others during this pandemic.
Sr. Xavier received a BA from Holy Family College (now Holy Family University) in 1966, an MA from Detroit University Mercy in 1968 and a PhD from the University of Maryland in 1975. She entered the CSFN community in 1960.