Your support is appreciated
July 6, 2020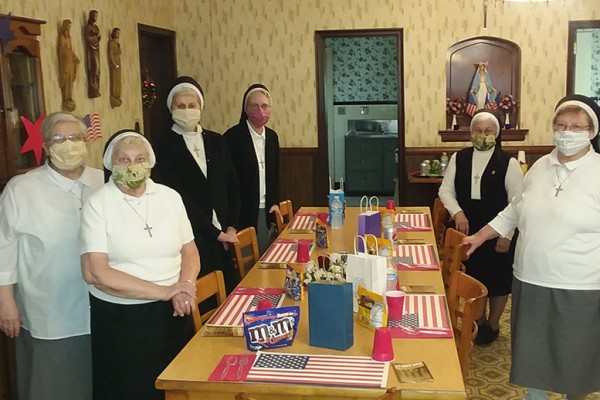 Dear Friends of Nazareth,
We hope you are doing well during these confusing times. No doubt, none of us expected this topsy-turvy world we now are trying to navigate, and our days are not what they were only a few months ago.
Despite the unique and evolving challenges this virus is causing throughout the world, we know that God will be there to support and comfort us all. Though our world may be in upheaval, we are doing our best to stand witness to hope and life.
With our ministry to families at the forefront of our minds, we would like to share with you how we have been handling this crisis.
The health and safety of our Sisters and our local communities is a top priority, therefore we are practicing social distancing as best as we can. We are staying home as much as possible, participating in online liturgies, and wearing masks when we must go out to run errands or attend appointments that cannot be missed.
The welfare of our lay staff throughout our province and that of their families is also very important to us. To minimize their exposure to the virus, we have allowed those who are able to work from home to do so. Those who are unable to complete all or any of their usual tasks from their remote locations are also receiving their full pay.
A number of our Sisters are engaged in distance-teaching, while those who are in essential businesses, such as nursing homes, outreach programs, and medical centers, are going to work. And our vocations director continues to meet virtually each day to pray with the young women who are discerning their vocation.
Many of our Sisters are doing small things to help the local community: making masks, leading live-streamed Rosaries, and baking cookies to share with a local organization which provides breakfasts and lunches to families in need.
We have been live-streaming the Holy Hour from our Provincialate Chapel and sharing prayers and stories on Facebook. While so many of our Sisters are physically confined to their homes, their hearts and prayers are with all those whose lives have been affected by this pandemic.
We are reaching out to you today because, just as it has for you, this pandemic has had a financial effect on us. We know you care about our Sisters and would like to help if you can, and with all the ups and downs our economy has been going through, your support now would be appreciated.
Through the years, you've been so generous to our Sisters. We've always been able to count on you and we're more grateful than we can say for your faithful support.
We hope that you will be able to make a donation at this time, but we understand that it may not be possible right now. We know that you will do what you can. You may make an online donation on our Donate page.
Regardless of whether or not you can make a gift, please know that our Sisters continue to pray for you and ask for your prayers during these extraordinary and challenging days.
In the Holy Family,
Sr. Kathleen Maciej, CSFN
Provincial Superior
Katherine Barth
Director of Development
PS: If you have a prayer request, you may send it through our Prayer Request page or call it in at 847-298-6760, x 237. Our Sisters are still praying for you every day.