July 8: Wednesday Reflection
July 8, 2020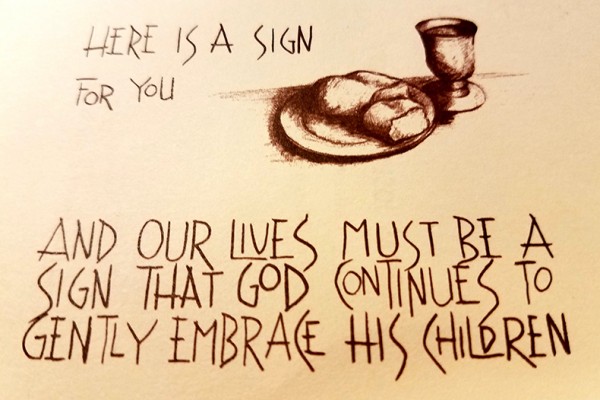 Dear Friends,
This past Tuesday the Gospel reading, Matthew 9:32-38, spoke loudly to me through Fr. Tom Haggerty's homily at Sts Philip and James Church in St. James, NY. Of course, in my simple way that I listen, then immediately translate in my mind the words that are said, these are the concepts I gleaned from Fr. Tom that gave me a lot to think about:
In the Gospel, Jesus cures a demonic man who cannot speak. And when the man is able to speak, he speaks of joy and love and faithful living. Surprisingly, the crowds witnessing this miracle are the clean people, whole, if you will. And yet when they witness this great healing, what words come out of their mouths? Definitely not positive ones, for they say Jesus drives out the demon by the power of the prince of demons.
Who is actually possessed? The words of the Pharisees are negative; they speak of jealousy and hatred. And yet in this scene, the Pharisees are the leaders. What example do they set? That gives us something to think about: How do we react when we see someone doing good for the sake of the Kingdom? Do we curse them, mumble under our breath about them, or wish them harm? Is that what we are called to do?
We are called to bring the Good News to one another. Macrina Wiederkehr in her book The Song of the Seed: The Monastic Way of Tending the Soul, writes "Perhaps our most hidden sin is that we have so little time for one another… We have to encourage one another to keep walking toward Jesus, toward joy, toward truth. We need one another to simplify our lives and to live where God is most to be found in deeper presence with each other."
Pope Francis has been reminding us that complaining does not allow the Spirit to enter into our lives. Why are we not rejoicing in the fact that God is ever present in our lives and is healing us constantly, releasing the demons that hold us captive? We are asked to speak life to one another. The words on Fr. Tom's ordination card say, "Here is a sign for you (picture of bread and wine). And our lives must be a sign that God continues to gently embrace His children."
Perhaps this week we need to look at the way we speak. Do we speak condemning, negative, complaining words? Or do we praise and give glory for all the good that surrounds us? Perhaps it is time to take inventory. For me, I know that instead of complaining about a situation or person, I need to pray for them. It is amazing what can happen. May your week be filled with positivity, sending out the demons of negativity.
Till next week,
Sister Theresita
P.S. For the actual homily I spoke of, you can watch it by going to the Sts. Philip and James Roman Catholic Church Facebook page.