July 15: Wednesday Reflection
July 15, 2020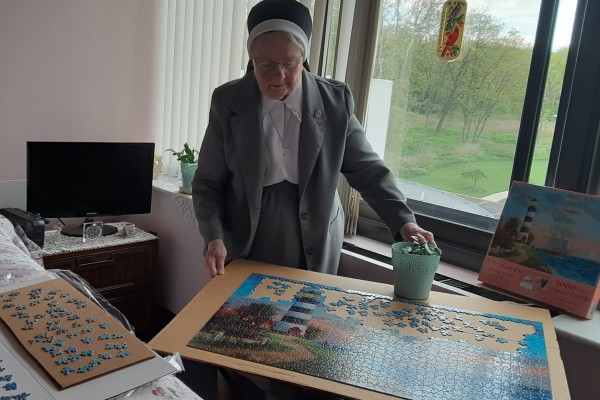 Dear Friends,
I am guessing that during your lifetime you have attempted to complete some sort of jigsaw puzzle. Whether making one of those big-piece, soft versions as a child or a thousand-piece version as an adult. Puzzles can be fun or intense, depending on you. Of course, one of the most important parts is that you have all the pieces! Nothing worse than trying to finish a puzzle and discovering a piece is missing. Been there, done that!
Recently, while having a meeting with our parish ushers, I gave them a lapel pin that was in the shape of a puzzle piece. It was attached to a piece of paper that said, "Every piece is important." The piece itself had the words "The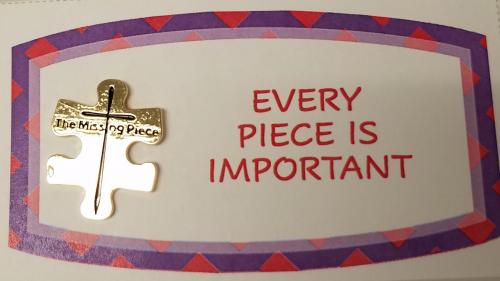 Missing Piece" on it. The purpose was to remind them that we are all important pieces in this puzzle that we call Saints Philip and James Parish.
Later in the week, I began thinking of how I handle the missing piece in my life and what that piece is. Do I recognize that everyone I encounter is an important piece in my life? Do I treat all with the same respect and love necessary to complete my puzzle? Then again, what are the missing pieces in my faith life? Do I sometimes feel incomplete like something missing? Could I find the missing piece by putting aside some quiet time for prayer and reflection? Could the missing piece be the forgiveness I need to extend to someone who has hurt or betrayed me? What about the piece that allows me to give up the fact that I think I always have the right answer or opinion?
I am beginning to think that if we look at each person or even situation as an important piece, this world would be a much happier and wholly place. Each piece of the puzzle is different, yet each piece is needed. If one piece is missing, then we don't have the whole picture. The puzzle is not complete. There are so many ways that Jesus calls us to complete and fulfill our lives, and he shows us the way. "Love one another as I have loved you" and "I will never leave you." Therefore, we will never lose a piece if we rely on the Lord.
If you get a chance, try and put together a puzzle. While doing it, notice your excitement as you start to find pieces that come together easily and your struggles with those pieces that are hard to find. The puzzle can tell you a lot about yourself. Give it a try! I think you will be glad you did.
Have a great week,
Sister Theresita