Aug. 12: Wednesday Reflection
August 12, 2020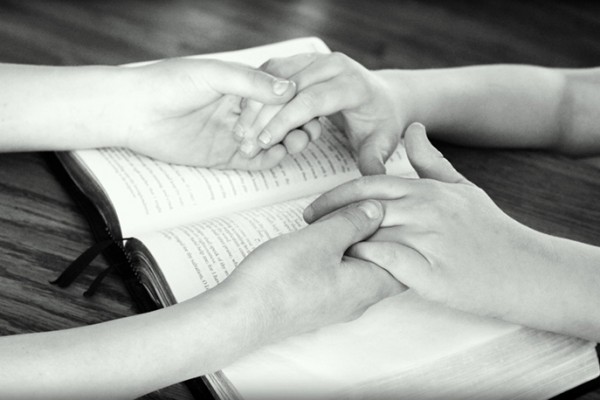 Dear Friends,
Brother Mickey McGrath has a painting that uses this quote from Pope Francis: "To be friends with God means to pray with simplicity, like children talking to their parents." The quote and painting came up on a memory for me on my Facebook page. I was very grateful as I wanted to share a quote from Fr. Kevin Cronin's homily last weekend. Besides many other thoughts (and jokes), Fr. Kevin said, "Prayer doesn't change God, it changes us."
When Father said that, I started thinking about what I had been praying for these last few months. It was for the health and safety of family and friends and for healthcare workers putting their lives in risk as well as police and firemen. And, I had my own personal concerns. How did I deal with prayer during this time? It is definitely a challenge. On August 15, we celebrate the Feast of the Assumption of the Blessed Mother. I thought about the Annunciation and how Mary was found at prayer. My guess is she was not praying to become the Mother of the Savior. Perhaps she was praying to be faithful to God's plan for her. Her praying led her to a life situation she was not expecting. Praying changed her in so many ways. The reason it changed her is because she accepted the change. She was willing to be changed.
Each of us, hopefully, has spent time in prayer during this pandemic. What have the prayers been like? Are we willing to allow prayer to change us -- our attitude, opinions, life dreams? Each of our lives has been affected during these past four months, for better or worse. How has prayer helped us to cope or be changed? Are we able to see the effects? Have we been able to pray like that of a child talking to their parent? Or has there been an edge to our prayers because of an unexpected outcome? All valid questions when we consider the fact that prayer doesn't change God's mind, but ours. That is really a lot to think about and can have some serious outcomes.
During this week, why not spend time listing some of the things you are/were praying for? Has the response to that prayer in any way changed you? I know that as I create my list there will be some life changing situations I will have to deal with. Will I allow prayer to change my heart, to fill it with God's will? It will be a challenge but with God ALL things are possible. Praying for you during this coming week so that you can recognize the changes that may be taking place. God bless!
Till next week,
Sister Theresita