Care for our human family: Resources on racism
August 26, 2020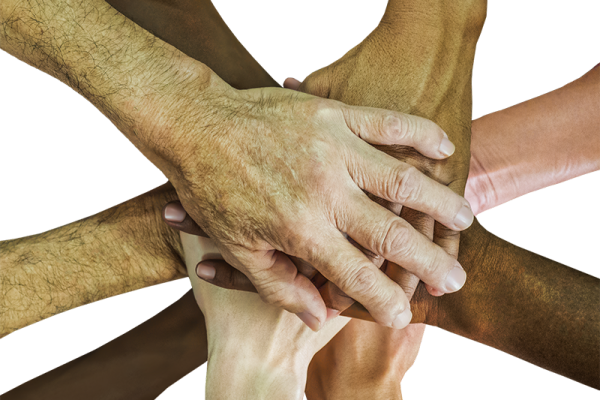 The Peace and Justice Committee of the Sisters of the Holy Family of Nazareth has put together this resource to help each of us respond to the invitation of Jesus to care for our neighbor. These books, videos, articles and other resources are intended to guide us in a discovery of concrete ways to love one another as we strive to promote right relationships within our human family.
Our neighbor may be our immigrant brothers and sisters, those impacted by human trafficking, and those touched by the issues of racism that affect our daily lives. Care for our neighbor also extends to the ever-present needs of creation that call out for a loving response. We believe that creation is one of God's gift to each of us and to the future of our human family upon earth. As one family, we realize that all is connected. Through faithful listening, we invite you to respond to the racial issues of today by building loving relationships in the ordinary events of your daily life and among all families.
These resources, compiled from various sources, contain topics that our Peace and Justice Committee believes will help inform and engage dialogue about race and racial injustice in our world. The resources listed below are intended for adults. For resources appropriate for children and young adults, we invite you to explore the USCCB's Combatting Racism – Educational Resources page.
Resources on Racism
Books
White Fragility (2018) - by Robin DiAngelo
Film/TV/Media
My Life Matters (2020) - A short film produced by Members of Life Experience Faith Sharing Associates, a sponsored ministry of the Sisters of Charity Ministry Network.
Freedom Writers (2007) – True story of one teacher's ability to turn a multi-cultural classroom of "tough kids" into one family. Though it is sometimes viewed as a "white savior" film, it is a good reflection on the way that focusing on connections rather than difference builds relationships. On YouTube, there is also a TedTalk given by Erin Gruwell focusing on one of the main characters from the film. Behind the Scenes of Freedom Writers 2007 is also available on YouTube.
Just Mercy (2019) There is also a study guide available online.
Where Do We Go From Here? (2020) – Interview with Oprah Winfrey and a panel of black professionals.
13th (2016) – An Emmy Award-winning documentary about racial inequality in the U.S. prison system.
Get Out (2017) – A "comedy-meets-horror film" about an interracial couple.
The Hate U Give (2018) – Based on a young adult novel about a police shooting.
12 Years a Slave (2013) – The true story of Solomon Northup who is sold into slavery.
If Beale Street Could Talk (2018) - Based on a novel by James Baldwin.
Fruitvale Station (2013) – The story of Oscar Grant who is killed by police.
Dear White People (2014) – A satire about four black students at an Ivy League university.
Moonlight (2016) – The story of a poor, gay, and Black man in Miami.
Healing River (2020) – An invitation to restore Catholic justice values and principles
Trouble the Water (2008) – Explores issues of race and class in New Orleans.
Did You Wonder Who Fired the Gun? (2017) – A documentary that traces the story of a 1940's murder in the Alabama.
I Am Not Your Negro (2016) – A documentary about writer and activist James Baldwin.
Magazines/Newspapers
Health Progress, March/April 2020: A Reflection: Moving From Desire to Action - Sr. Doris Gottemoeller, RSM – Touches on the dignity and respect that we all need to foster within our hearts and in our little corners of the world.
Sojourners, Nov 12, 2015: 11 Easy Mistakes to Make When Thinking About Racial Inequality in the U.S. – Joe Pettit - Well intentioned people who want to speak about racial injustice would profit from taking a look at the assumptions we often make sub-consciously.
NCR, June 3, 2020: Racism Is The Temptation White People Have Yet To Overcome – Joan Chittister - "Racism won't go away until each of us, white and black, melt into the human race as one. It won't start with legislation. It will only start when we do." – Joan Chittister
NCR, June 1, 2020: The Assumptions of White Privilege and what we can do about it – Bryan Massingale
Other
Can you hear us? Are you listening? - An blog post by Peter Jones, interim dean of the Institute for Pastoral Studies at Loyola University Chicago.
Open Wide Our Hearts—the enduring call to love – The Intercommunity Peace & Justice Center's four-session process to study the USCCB Pastoral on Racism.
Faith and the Faithful in the 2020 Elections: Religion, Racism, and the COVID-19 Crisis – Georgetown University resource.
Seattle Times - Under our Skin – A project of the Seattle Times journalists to help them in addressing articles on racism with better knowledge.
Pax Christi USA – Anti-Racism Resources