Congratulations to our 2020 jubilarians!
August 27, 2020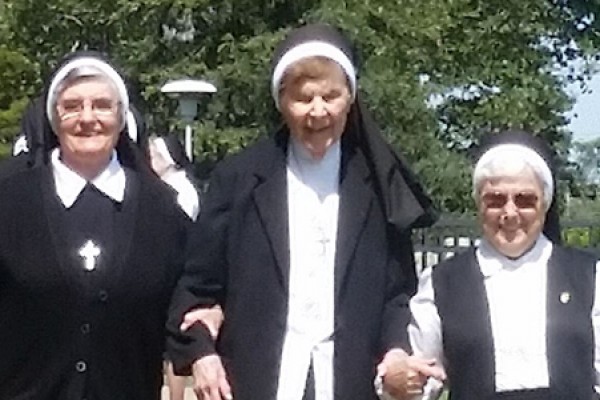 Sr. Eunice Leszczynska
Diamond Jubilee – 75 years
Entered June 27, 1945
Sr. Eunice says that her "yes" to religious life opened her heart to God's presence in the beauty of creation. Her travels in the last 75 years as a Sister of the Holy Family of Nazareth have introduced her to diverse cultures, customs, and traditions around the world. An understanding of this diversity has guided Sr. Eunice in her social work ministry, as she inspired countless families to build healthier and happier homes. Reflecting on her parenting education workshops at the Family Center at Holy Family University, she says, "Seeing [the parents'] joy of accomplishment when receiving their certificate of accomplishment made me feel I was really living our charism."
The kindness, excellent teaching, and prayerful devotions of the sisters who taught her at Nazareth Academy in Philadelphia inspired her to enter the Congregation. She went on to earn her Ph.D. in social work from the Catholic University of America in Washington, DC, a certificate in family therapy from the Center for Family Learning in New Rochelle, NY, and a certificate in parent education from the Parenting Resource and Education Network in Fort Washington, PA. She has served as a teacher at the elementary, secondary, and college levels; childcare worker in homes for dependent and neglected children, administrator at residential treatment homes for children, family counselor, and parenting educator.
Sr. Eunice attributes these accomplishments to her strong relationship with the Lord which she says she keeps "fresh and alive through prayer, holy hours, and special devotions." That prayer life also helps her to be present for her sisters when they need her and "to grow in communal love, joy, and support."
Sr. Mary Ellen Gemmell
Golden Jubilee – 50 years
Entered September 8, 1970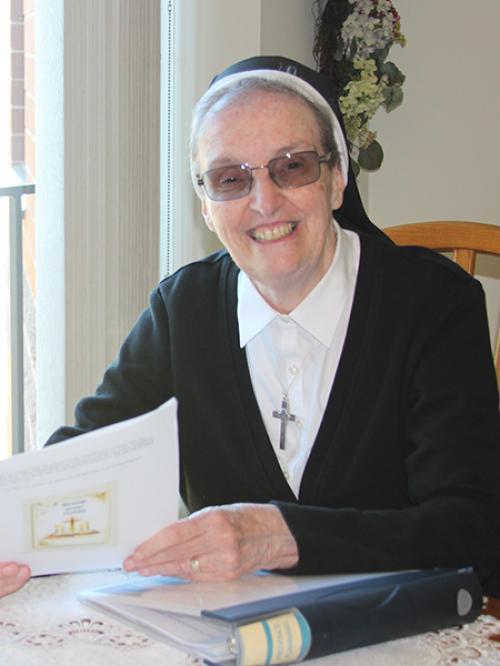 It was her desire to help families, as she saw so many Catholic sisters doing, which first drew Sr. Mary Ellen to her vocation. Reflecting on her 50 years as a Sister of the Holy Family of Nazareth, Sr. Mary Ellen believes she is called to "live my Nazareth calling joyfully, accepting obstacles, and placing all events into the hands of our Father and Maker."
With a BA in English and an MA in bilingual-bicultural education and administration of schools, Sr. Mary Ellen has served as a teacher and principal in Philadelphia and in Puerto Rico as a teacher, principal and associate superintendent. In 2007, she received the Pro Ecclesia et Pontifice, a medal from the Pope conferred for distinguished service to the Catholic Church by lay people and clergy. In 2007, she was also honored with the Doctor of Humane Letters from Holy Family University in Philadelphia.
She has served and continues to serve with a grateful heart; and she recognizes God's Providence in her life, always thankful for her family, her sisters in community, and all people where she has had the privilege to serve. Today, Sr. Mary Ellen shares her joyful gifts of prayer and hard-work as provincial secretary and councilor for our US province and as an online Spanish instructor with Holy Family University. She says, "At all times, I strive to follow Jesus, knowing I am going to the Father; knowing that I serve the Church and listen attentively to the teaching of the Holy Father as so many of our Sisters do and have done before me; no matter what the task at hand."
Sr. Loretta Rose Tallas
Golden jubilee – 50 years
Entered May 31, 1970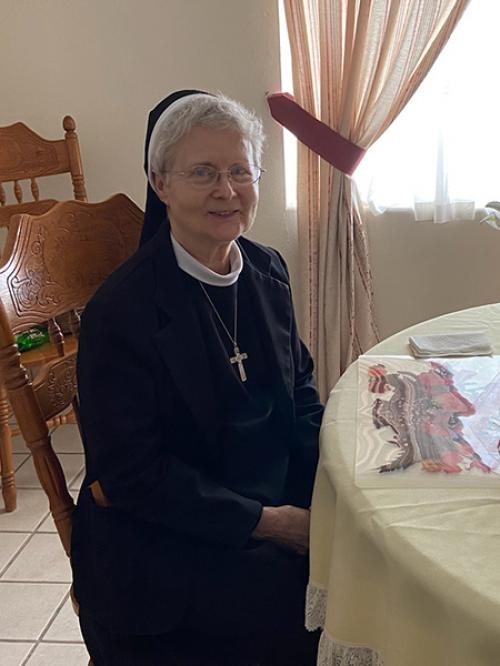 Sr. Loretta Rose is an educator at heart. In her many years as a teacher, she has inspired countless young people to learn and grow in their love of God. Her Master's degrees in education, theology, and Christian spirituality coupled with her heartfelt interest in the well-being of others allows her to be a supportive listener among her students and among her sisters in the Congregation. In addition to her work as a second grade teacher at Immaculate Conception School in Grand Prairie, TX, Sr. Loretta Rose is also a member of the CHRISTUS Health Northeast Texas Board of Directors and serves as a spiritual director in the Association of the Holy Family.
Influenced by the Catholic sisters she knew, Sr. Loretta Rose ultimately heard her call to religious life in prayer. It was the daily, community prayer of the Sisters of the Holy Family of Nazareth that drew her to the Congregation. A half-century later, prayer continues to play a vital role in her life. For inspiration in her vocation and her ministry, she turns to the prayer lives of Blessed Mary Jesus of the Good Shepherd (Frances Siedliska) and other saints.
"In my religious life, I have found deepening prayer and growth in my spiritual life to be the most satisfying," she says. "Spiritual directors, retreats, education in theology and Christian spirituality, family ministry, and Nazareth community prayer and fellowship have supported this deepening growth."
Sr. Maria Therese Nguyen
Silver jubilee – 25 years
Entered August 27, 1995
Sr. Maria Therese says she is "very proud" to be one of the first Vietnamese sisters in our Congregation. She was drawn to the Sisters of the Holy Family of Nazareth for our simplicity and "Holy Family way of living," as she puts it. However, she believes it was her readings of St. Therese of Lisieux's The Story of a Soul and St. Pope John XXIII's Journal of Soul that first inspired her to consider religious life. Though she has faced challenges through the years, Sr. Maria Therese's joy, love, and compassion have helped her grow and flourish in her vocation.
"The most important thing to me within the charism of our Congregation is charity," she said. "Without charity and love no one can function and live well in community. I see myself living and maintaining this charity in all I do."
Through the years, she says she has remained truthful to herself in her community life. That truthfulness has enabled her to share her gifts and talents with the members of the Congregation. Known for her radiant smile and infectious laughter, Sr. Maria Therese radiates Nazareth joy as she fills the hearts of those with whom she ministers with the love of God. She currently volunteers as a parish religious education teacher and is pursuing a degree in religious studies from Holy Family University in Philadelphia. Between her studies and her volunteer ministry, she also enjoys practicing her piano skills and listening to both classical and country music.
Sr. Hanna Paradowska
Silver jubilee – 25 years
Entered August 26, 1995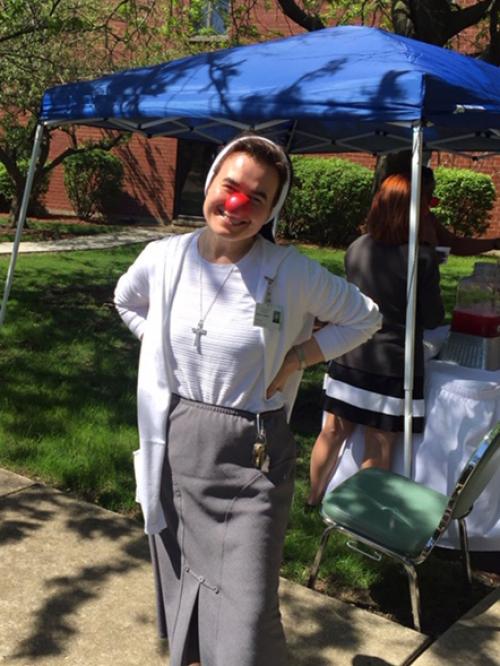 There is a verse from scripture that has been with Sr. Hanna from the very beginning of her religious life: "Everyone who has given up houses or brothers or sisters or father or mother or children or lands for the sake of my name will receive a hundred times more, and will inherit eternal life" (Mt 19:29). Looking back on the last quarter century, Sr. Hanna believes this verse still holds true for her journey as a Sister of the Holy Family of Nazareth. "Because of the gift of faith and because of my response to God's call, I have had the privilege to minister to so many."
A board-certified chaplain with an MA in spirituality from Loyola University in Chicago, Sr. Hanna currently serves in pastoral care at Ascension Living's Casa San Carlo Retirement Community in Northlake, IL. Over the last 12 years in various pastoral care ministries, she has been a peaceful and calming presence in hectic and emotional situations. Sr. Hanna also volunteers in detention centers ministering to immigrants. She says she has "had the privilege to minister to families… in their darkest hours."
Mother Theresa of Calcutta (now St. Theresa) inspired Sr. Hanna, as she began to explore the possibility of entering religious life. After researching various communities, she was drawn to the hospitality, family spirit, daily Eucharistic adoration, and simplicity of the Sisters of the Holy Family of Nazareth. "I think that our Nazareth charism and ministry to families is so vital and needed today," she says. "God - in His Son - chose to be present to people in their needs, their weaknesses, their poverty, and their ordinary life experiences."
Sr. Maria Magdalena Rybak
Silver jubilee – 25 years
Entered August 26, 1995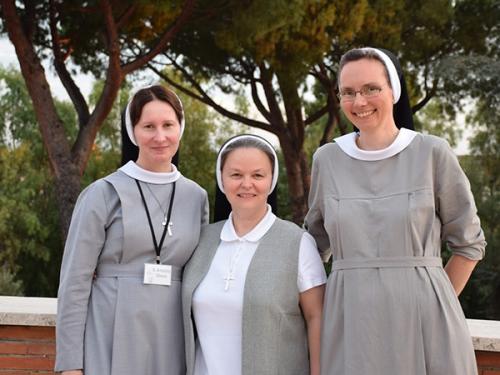 "Nowhere in the world would I be able to discover my gifts, my talents, my weaknesses, and my strengths as I did here in Nazareth, with my sisters," says Sr. Maria Magdalena. A certified critical care registered nurse, she shares her gifts of compassion and gentleness with the patients and families she serves at AMITA Holy Family Medical Center in Des Plaines, IL. Nursing was her full-time ministry until two years ago when she was elected to the leadership team of our US province. "My ministry in nursing really helped me to see that there is more, that I can do more," she said. "Taking care of the sick, lonely, suffering, and vulnerable opened up my heart to God's call." She now ministers part-time as an ICU nurse along with her full-time work as a provincial councilor.
The simplicity, family spirit, and hospitality of the Sisters of the Holy Family of Nazareth attracted Sr. Maria Magdalena to religious life. "When I first got to Ostrzeszów (one of our Convents in Poland), I felt like it was home; I felt safe; I felt accepted," she says. "I knew this was it."
Over the last 25 years, Sr. Maria Magdalena says she has had abundant opportunities to travel and to learn new cultures and languages that she never dreamed possible. But, it's the community with other sisters that makes her heart "jump for joy in gratitude and puts one big smile on my face." Reflecting on her time in the Congregation, she said, "God has given me a gift and this gift is my vocation to Nazareth, for which I am grateful until the day I will take my last breath."
Sr. Trina Marie Ulrich
Silver jubilee – 25 years
Entered August 6, 1995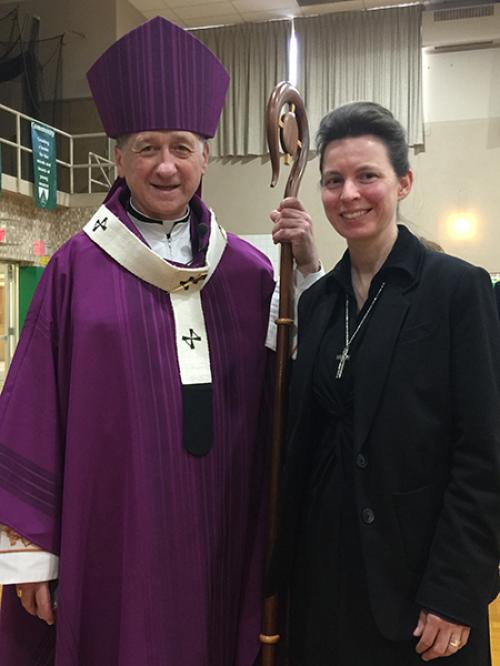 As teacher and chair of the theology department at Aurora Central Catholic High School in Aurora, IL, Sr. Trina strives to make the Catholic faith, the Bible, and the salvation found in Jesus relevant in the lives of the young people in her classroom. With an MA in Biblical Studies from Catholic Theological Union in Chicago and her extensive spiritual discernment and formation, Sr. Trina shares a wealth of scriptural knowledge and experience with her students. Throughout her years in the classroom, she has inspired numerous students to deepen their love of Jesus and their understanding of the oneness of the human family. In 2018, she took these lessons outside the classroom when she led a grace-filled pilgrimage to Rome, guiding her students through real-life encounters with their faith and with the Holy Father.
As a Sister of the Holy Family of Nazareth, she says she "gives witness to God's primacy in a person's life," a witness that helps her "continually make God present in the lives of people today." The spirituality of our sisters along with encouragement from her mother led Sr. Trina to enter the Congregation. Today, she continues to find inspiration in our incarnational spirituality and apostolic and contemplative way of life.
Sr. Trina believes God has been guiding her to the Sisters of the Holy Family of Nazareth from her earliest beginnings, since she was baptized on November 21, 1971, the feast day of Blessed Mary of Jesus the Good Shepherd (Frances Siedliska), foundress of our Congregation.
Notes of Congratulations from Friends of Nazareth
Congratulations to all the Jubilee Sisters!... What a blessing these Sisters are to so many! God Bless you All! -- Patricia Wirtshafter Smith
Congrats to the Jubilarians! --Joseph Poniewaz
Congratulations, Sisters! Continue to be the Light! --Phil Scrimenti
Congratulations to you all! --Agnes Shellhammer
I wish to congratulate all of the good sisters celebrating all of their jubilees! They are an inspiration to me and many others! I hope and pray that God gives them many more years of consecrated life! Congrats! --Gerard Brennan
Congratulations! --Robert Kovick
Congratulations to all and especially to "Our Sister," Sister Mary Ellen. On behalf of my family, we want to wish you a very happy anniversary. Your faith and dedication over 50 years is remarkable. You deserve a once in a half century "GOD BLESS YOU." --Bob, Kathy Gemmell and family.
Many blessings extended to our jubilee sisters. --Sue Scates
I thank the holy women who taught me and helped form the person I am today. May God bless the jubilarians and all of the Sisters of the Holy Family of Nazareth. With love, --Patricia O'Connor (formerly Patricia Dardzinski)
My heartfelt congratulations to these dear Sisters who have dedicated their lives to the service of humanity and spread the teachings of Jesus through their arduous work. May God accept their noble deeds and reward them in this life and in the Hereafter. Peace and Love, --Nancy Ali
Thank you for all you have done. I will always remember the wonderful education I received at St. Kunegunda's from your amazing sisters. Congratulations and I hope you have many more wonderful years ahead. Sincerely, --Michael Pavlinski
Add my Congratulants and Prayers for all the Sisters celebrating a Jubilee! --Marilyn Zurita.
To send your congratulations to our jubilarians, please go to our Contact Us page. To make a donation in honor of one or all our jubilarians, please visit our Donate page.