Sept. 9: Wednesday Reflection
September 9, 2020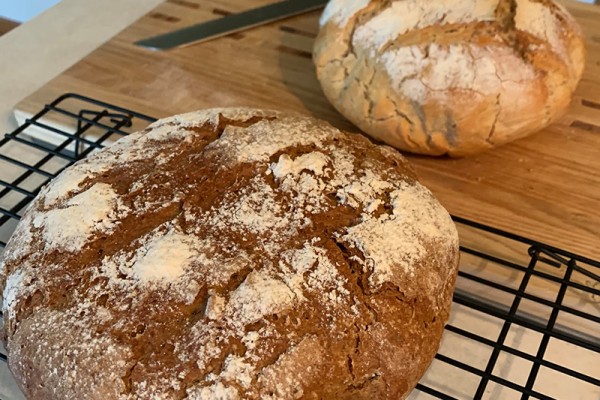 Dear Friends,
There is nothing like the smell of bread baking in the oven and the aroma that fills your home as it cools. Is your mouth watering? Are you getting hungry? Just recently, a celebrant spoke of how he likes to make this favorite simple loaf of bread. I can't wait to ask him for the recipe. Although I am not a baker, my sister made wonderful breads. Who knows -- she may intercede for me and I may be successful?
It is funny how God works in God's own time. While driving to Church, I was anxious about what I would write for this week's reflection, then came the bread homily. Actually, it was a "yeast" homily. Father shared how he decided to make his favorite bread, but all he had was some old yeast. Since he really wanted to make his bread, he used the old yeast anyway. I don't need to tell the bakers among you what happened to the bread. It fell flat. So, he made another batch with fresh, new yeast. Ah, what a difference and so delicious!
So, what does yeast have to do with us? Jesus used the imagery of yeast sprinkled throughout his preaching. My take is that we are asked to be yeast (leaven) for ourselves and others. The trouble is, that like Father's yeast, we can become stale. We need to keep a fresh attitude, especially in the coming days and weeks ahead. We need to add a little more love, compassion, and encouragement to the lives of our family and friends to help them rise to the challenges they may face. So many things have changed in recent months -- from the way we worship to how we go to work to how we send our children to school (or help them at home). Visiting, hugging, eating out, grocery shopping, and so many other things have changed.
Can we be fresh yeast (leaven) for others, showing them the opportunities in all the recent changes? Can we leave behind the old yeast and celebrate with a new, fresh batch? I think each of us has to answer that in our own hearts because we are coming from different circumstances. One thing is for certain: we may need to be very creative to share and spread that fresh yeast. I am almost certain that 'thinking outside the box' may have to be our new normal. That can be a challenge in itself. We need to trust in God.
Jesus urges us to be that yeast (leaven). He knows what we are capable of much. Matthew 13:33 tells us, "The Kingdom of Heaven is like the yeast a woman used in making bread. Even though she put only a little yeast in three measures of flour, it permeated every part of the dough." Do not fear, for each small amount of fresh yeast that you share with others will grow in leaps and bounds. A little goes a long way and you don't have to do it alone. Gather the bakers and spread the good news (yeast)! We just celebrated the birthday of the most wonderful baker and leaven/yeast person in Scripture: Mary. She had to be thinking continually out of the box and remaining joyously faithful. Her "yes" is a wonderful example of trusting God's plan.
My prayer is that you spend some time this week looking at the challenges you need to face and find creative ways to see them as opportunities and not obligations. Wear your mask with a smile (even though we can't see it). Respect those who are trying to keep all safe by following the rules. And, keep negative remarks to yourself – you don't want to be stale, old yeast.
Happy baking! And make sure you have your batch of new yeast!
Till next week,
Sister Theresita