A Missionary Heart
March 15, 2018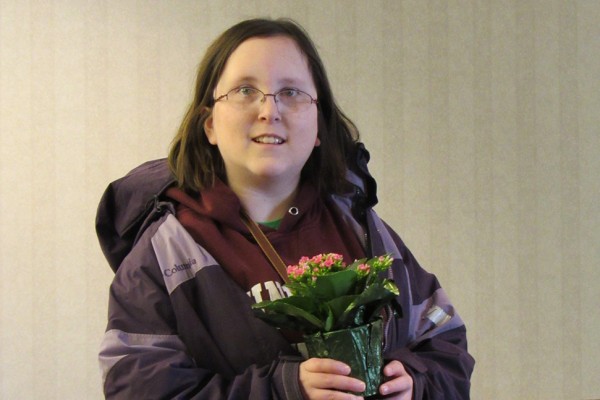 by Liz Fairchild, Holy Family Service Corps Volunteer
Editor's Note: Liz Fairchild grew up in Fairfax, MN and graduated with honors from Minnesota West Community and Technology College with an associate's degree in child development. After completing her degree, she served as a Minnesota Reading Corps tutor and worked at a preschool. In August 2017, she and Mathew Jury became the inaugural volunteers with Holy Family Service Corps, a program developed by the Sisters of the Holy Family of Nazareth and Holy Family Institute to provide volunteers with a rich sense of service, community, faith and professional development. Liz and Mathew have served at various ministries in the Pittsburgh area.
As Liz enters the last few months of her service year, she took the time to share some of her thoughts on how she discovered her "missionary heart."
As a child, I grew up hearing many wonderful stories about one member of my mother's family. Mary had so many amazing adventures. One summer, as the family gathered for our annual reunion, I sat next to Mary full of curiosity about what her life was like. As we ate dinner, I was inspired by the stories she told about what she had done and the things she had seen.
When I was about ten years old, a new priest, who had recently come back from mission work in Africa, was assigned to our parish. Often before Mass, we would find Father sitting in the entrance of the church with various artifacts he had collected through his travels. As children arrived with their families for Sunday Mass, Father would start to talk about the days he spent throughout Africa. Again, I was inspired to hear his stories of serving God and helping people.
As an adult, I experienced a dark moment that led me even deeper to connecting with my missionary heart. I had just lost a job and was spiraling into a deep depression, feeling like I had failed and wondering what I would do if I couldn't do what I loved.
As I walked home from my workplace for the last time, I passed a college and decided to stop by their coffee house, thinking that a cup of coffee might help me forget my current situation. As I headed toward the little coffee shop on the corner of campus, I saw a college student preaching outside. This surprised and intrigued me. I got my coffee and sat outside listening to him. As he noticed me, he began to speak more directly to me about God's love. After about twenty minutes, he left and I found myself in tears.
Weeks went by. As I searched for work, I came to the college to see this man speak several more times. As he and I became friends, he invited me for meals and worship service with his church. As much as I loved the fellowship, his church just wasn't my home.
I decided to give the Catholic Church another shot, so I made the long walk to Church and arrived as Mass was starting.
During the fellowship after Mass, I was approached by a girl in a red shirt who asked if I was OK. I found myself telling her all that had happened to me within the last few months.
As I told her about not knowing what to do if I couldn't do what I love, she smiled and said, "You sound like someone who has a kind and giving spirit and heart for mission. I think you have a missionary heart."
* * *
Holy Family Service Corps is an extension of the mission of the Sisters of the Holy Family of Nazareth. In union with our Sisters, our volunteers "share in the joys and hopes, sorrows and fears of the People of God…work toward the creation of one family in God wherever they serve…commit to enhancing the quality of family life…promote the rights of the disadvantaged and powerless and encourage each other to trust that in every situation, God uses us as instruments by which the Gospel of love and peace is proclaimed" (Covenant of Love, Life of Service #5.3-5.8). For more information on how you can share in short-term or long-term service opportunities, please visit Service Corps.