Our Mother Foundress at Nazareth Prep
September 11, 2020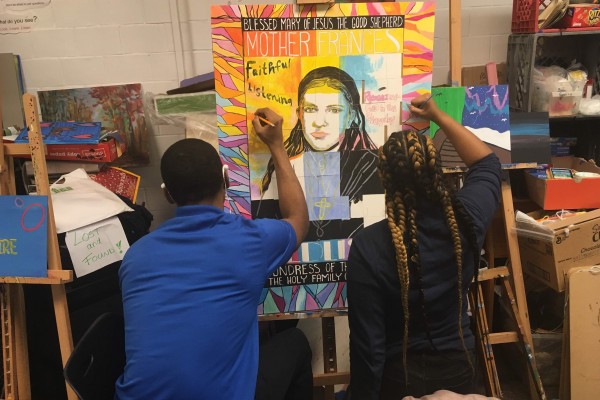 Art students at Nazareth Prep in Pittsburgh, a sponsored ministry of the Sisters of the Holy Family of Nazareth, recently debuted their polyptych portrait of Blessed Mary of Jesus the Good Shepherd (Frances Siedliska), foundress of our Congregation. The portrait consists of 100 individually painted pieces that, when assembled, measures 40 x 36 inches.
The project began in November 2019 when Mr. David DiMichele's theology class at Nazareth Prep studied Blessed Mary of Jesus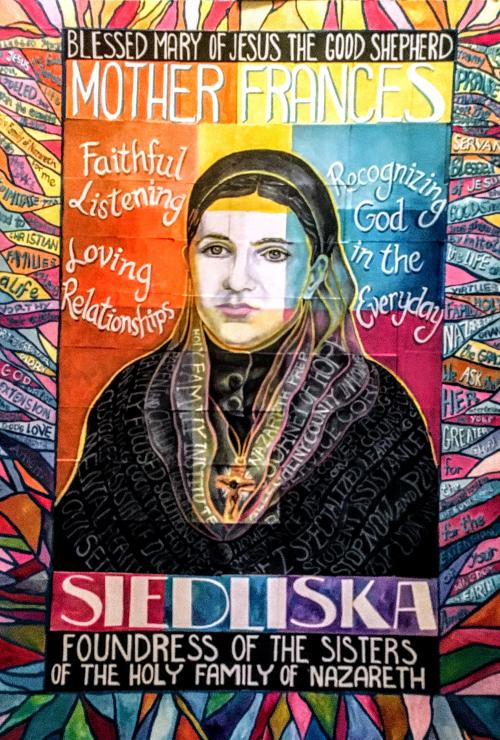 the Good Shepherd as the "Saint-of-the-Month." In collaboration with these theological studies, Ms. Amy DiMichele, visual arts teacher at Nazareth Prep, led her students in the creation of this new portrait of our Mother Foundress.
Inspired by Andy Warhol's 1983 art piece "Ingrid Bergman 314 (The Nun)," Ms. DiMichele and her art students studied sketches of our Mother Foundress that were used in a carving when the Holy Family Institute's chapel was renovated in 2004. In this new portrait, Frances Siedliska is depicted at an age close to that of the students at Nazareth Prep.
The Nazareth Prep art students worked on this project through March 2020 when the shelter-in-place orders led to online learning. Ms. DiMichele finished the project at her home over the summer so that it would be ready to greet students when they resumed in-person classes this fall.
In this portrait, Mother Foundress' "vision [is] centered upon the cross… reflected upon her," according to the description accompanying the piece. The core values of our mission surround her: 'Faithful Listening," "Loving Relationships," and "Recognizing God in the Everyday." The folds of her robe show "some of the expansions of her mission in Pittsburgh." Along the stained glass border are two prayers.
Nazareth Prep is an independent Catholic high school that provides an affordable, progressive education in Pittsburgh. Through a rigorous yet personalized preparatory program and unique internship program, their students build skills that will transform their lives, prepare them for college, the workplace and to be the designers of the future. For information on Nazareth Prep's innovative education, please visit nazarethprep.org.