Your support helps our postulants
October 8, 2020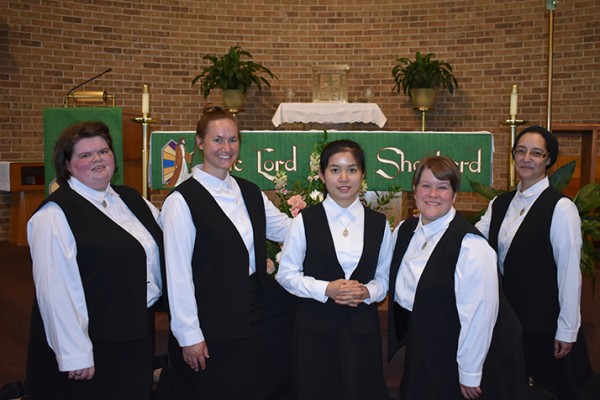 Dear Friends of Nazareth,
Often we ask for your assistance in supporting our elderly and retired Sisters, but you may not realize that your donations also assist those who are in formation with the Sisters of the Holy Family of Nazareth!
We presently have five postulants experiencing life together in community with our Sisters at the Jesus the Good Shepherd Convent in Grand Prairie, Texas. Kayla is beginning her second year of postulancy, while Molly, Binh, Katie, and Becky have just entered this time of structured discernment.
While living with our Sisters, postulants engage in religious studies, learn more about the congregation and what it means to be a women religious in Nazareth, join together in prayer and contemplation, take on household tasks, and enjoy fun and fellowship. During postulancy, some may hold part-time jobs or complete their education, though their primary responsibility is to learn what it means to be a Sister of the Holy Family of Nazareth and discern if they are indeed being called to by God. During their deeper focus on their discernment, our province supports many of their needs.
In most cases, a young woman will spend one year as a postulant while discerning her call to religious life, and specifically a call to religious life as a CSFN. After the time of postulancy, it's their hope (and ours!) that they will enter the novitiate and become vowed Sisters. Your generous donation will help them to achieve this!
It's a blessing to us all that these young women have chosen to explore God's call in an era when it's not the norm for a young woman to do so.
"I went to a small Catholic college, which had a vibrant Catholic culture… Really, I began thinking about a religious life then," Molly explains. "But it wasn't until I finally took a moment to really be open to God in prayer, without my own agenda, did I see Jesus was waiting with an invitation for me."
There are so many religious orders to choose from, but at some point in their lives, these young women came to know the Sisters of the Holy Family of Nazareth and felt something stir within them.
"I first met our Sisters at a conference given for Catholic youth ministers in Tampa, Florida," said Molly. "I attended a workshop on discernment given by one of our Sisters. I was immediately drawn to her, because of her authenticity and deep spirituality."
Binh first met a CSFN at her parish mission. "Sister Emmanuela was the presenter and I was impressed by her message about vocation. I talked with her, and told her of my desire to become a Sister. She invited me to attend a discernment weekend that her community was sponsoring. After that, I have to say, 'I saw Nazareth's love'! It is a true love that we need in our life today."
Of course, just enjoying the company of our Sisters is not enough. Women entering our order need also be drawn to our spirituality and our charism.
"Part of the reason why I chose to begin the process with CSFNs is that we are family-oriented, see the divine in the ordinary, are patient, and use all of our senses within our prayer," said Katie.
These young women are so passionate about their faith, and their hopeful futures serving the people of God! Your prayers and financial support can ensure that they take the time they need to transition to a religious life.
Would you please consider making a donation to help us support these young women as they discern their futures as a CSFN? Any gift, be it large, small, or in between, is greatly appreciated! You've been so generous to all of our Sisters in the past; we hope that we can count on you now.
One day, these young women will be giving of themselves and sharing all that they are with the families to whom they will minister. Ten years from now, Katie hopes to have taken her final vows. "I hope to be loving and serving God, and the people of God, where I am in Nazareth!" Katie shared.
What a wonderful future awaits Katie, and all of our postulants! What joy it could bring, knowing that you and your support were an integral part of making this happen!
In the Holy Family,
Sr. Kathleen Maciej, CSFN
Provincial Superior
Katherine Barth
Director of Development
To make a donation online, please visit our DONATE page.