Oct. 14: Wednesday Reflection
October 14, 2020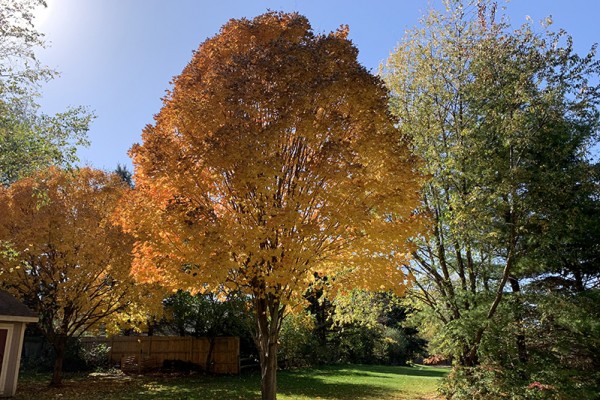 Dear Friends,
One of my favorite storybooks is by Mary Fahy, The Tree That Survived the Winter. If you have read it, I think you would agree that it is worth the rmead. Our bulletin this past weekend had three words on the front cover: CALLED, CHOSEN, FAITHFUL. Those three words reminded me of the book, especially the word "faithful."
For those who are not familiar with the story it goes like this: A young tree is removed from the comfort of a nursery and planted in a field/park. It was CALLED. Fearful, the tree worried if it could survive in this new place. It had to sink its roots in deep and withstand all the elements. It was CHOSEN. Despite the hard winter, it survived and, in the spring, bore much fruit. As people passed by and experienced the tree, they gave it names – "good sport," "keeper of secrets," and "hope." When the sun visited, the tree complained that the sun had left it alone during the winter. The sun reminded the tree of all the times it had helped during the hard times. The sun was always with the tree and it was very much loved. The book is much richer, but you get the gist of it.
The year 2020 makes me (and perhaps some of you) feel like the Tree That Survived the Winter. At the beginning of 2020, we were in a place that we knew and relatively understood. Things were familiar to us. Then suddenly, we are in a new place in our lives, our family's lives, doing things differently than we had been doing. There were times that we probably thought we couldn't make it and yet, we moved ahead. How? Because the SON is always with us and we are very much loved. Because we have people who cared for us and called us to more and supported our efforts.
Although at times we may feel like we are fragile and are going to break, God is always with us. Prayer and positive attitude will keep us going. Like the tree, we have been called – called to be kind and compassionate to those around us; chosen to live the Gospel values and bring that light of Christ to others; and, chosen to be witnesses that the Son is always with us and we are very much loved.
In the book, the sun says to the tree, "You are called FAITHFUL." During this week, reflect on how you are and have been faithful in living a life worthy of being "CALLED, CHOSEN, FAITHFUL." My prayer is that you can rejoice in the times you have been faithful, knowing that you are very much loved.
Till next week,
Sister Theresita
P.S. God is good and takes care of me!