Skunksville
October 21, 2020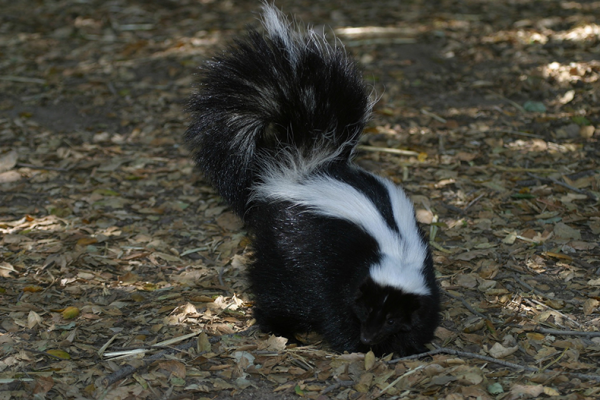 by Sr. Frances Smalkowski
Have you ever had a similar experience? One night I was "talking with God" (a.k.a. sleeping according to my sisters) about something that was bothering me. Feeling peaceful, I knew on some level that God would make good come out of this difficult situation. Needless to say, it certainly didn't feel that way at the time.

Returning to my room, I began turning the open shades on my window to close them. How I wished I could have called all the sisters to come and see! There was this thickly-coated, well-fed, double-striped Pepe Le Pew* strutting around the grass seemingly showing off its white-tipped lengthy tail.

First of all, I had never seen a skunk with two clearly-defined back stripes (similar to a chipmunk). Secondly, God oftentimes "speaks clearly" to me through skunks. Long story! And, enough said. I simply enjoyed Pepe's presence through the fifteen minutes until the sound of the neighborhood dog caused it to change course.

"Thank You, God," I said to myself. Then I recalled what Julian of Norwich reminds us: "All will be well...."

The sequel to this story is that in checking my e-mails shortly afterwards, I had received a message regarding my concern. It was signed off with three hearts, and I found it reassuring and in line with Julian's wisdom.

---
*For those unfamiliar with Pepe Le Pew, he is a cartoon skunk created by Looney Tunes.
Image is not of the actual skunk spotted by Sr. Frances. This image is by skeeze from Pixabay.