God calls, even during a pandemic
October 22, 2020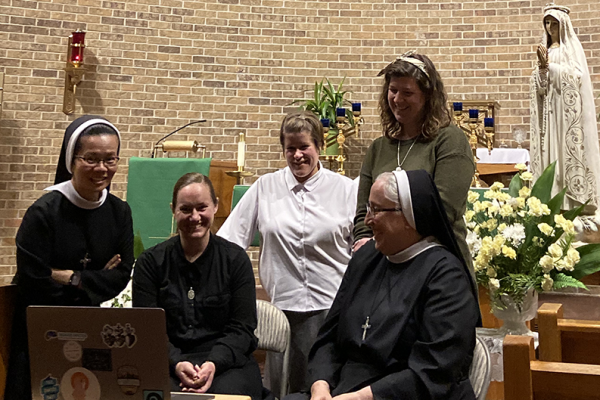 With the many distractions and challenges of the world today, it is hard to turn off the noise of our daily lives and tune in to God's voice. But, that is just what 24 young women from across North America did this past weekend during our virtual discernment retreat. Connecting on Zoom from Canada, Michigan, New York, Ohio, Colorado, Nevada, California, and Texas, the discerners joined eight of our sisters, four postulants, and one affiliate to pray together and hear about what it means to be a Sister of the Holy Family of Nazareth.
"It was a blast," said Sr. Emmanuela Le, our national vocations director.
As the discerners learned more about our foundress, Blessed Mary of Jesus the Good Shepherd (Frances Siedliska) and the spirituality of our congregation, sisters throughout our U.S. province supported the event in prayer. "It was such a blessing," said Sr. Emmanuela.
It was also a blessing for the young women who attended the online event. Several of them expressed their gratitude for the peaceful, low-key opportunity to experience our sisters' hospitality, even if it was from a distance.
__________________________________________________________________________________
When was the last time you paused and listened for God's voice? We invite you to pray with us, to listen to God's call with us, and to love with us as we find God in ordinary experiences. If you believe God may be calling you to religious life, please visit our BECOME A SISTER page or email Sr. Emmanuela at vocations@nazarethcsfn.org.