Nov. 25: Wednesday Reflection
November 25, 2020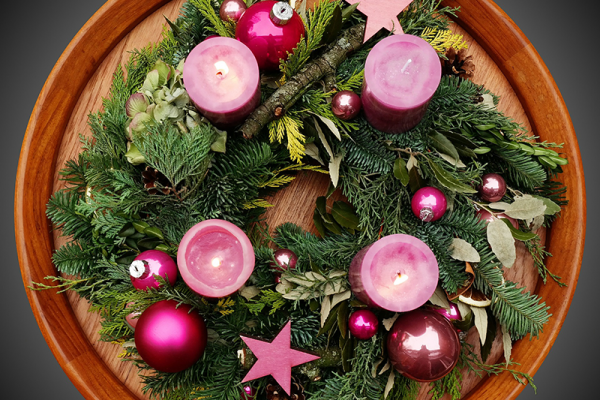 Dear Friends,
Happy Thanksgiving! May your day be blessed with the remembrance of your many blessings and the experience of new ones each and every day. May your life be filled with an attitude of gratitude. Celebrating Thanksgiving brings us closer to the season of Advent this year. The Sunday after Thanksgiving is the First Sunday of Advent. Our Church begins its New Year. I look forward to sharing with you during this time of waiting for the coming of Jesus.
In an attempt to enrich my Advent season, I decided to use a program called REJOICE! Advent Meditations with the Holy Family by Fr. Mark Toups (Ascension Press). I hope to share with you some of the thoughts from that prayer experience. During this time of Advent, Fr. Mark encourages us to encounter the persons of Mary and Joseph and deeply encounter the reality of their marriage.
As I read the first week of reflections, I experienced that Mary and Joseph, as individuals as well as a couple, were completely available to God. They were a normal couple who experienced the urges, longings, and desires as well as life's fears, temptations, and struggles. Because they were so available to God, they kept no secrets. They were able to share from the depths of their hearts.
Are you willing to live with your heart completely available to God? Are there secrets you have been holding deep within your heart that you can't even share with God, or think you can't? When we work at being completely available to God, acknowledging our deepest desires and admitting our needs, God makes Himself completely available to us. We just need to trust in the process. Mary and Joseph experienced a love that St. Thomas Aquinas defined as "to will the good of another." Mary and Joseph "lived in active, obedient dependence on God."
If we look at our own lives, are there things that we need to bring to God or to another person? Do we live and love with the attitude of "willing good for the other" or do we expect something in return? Can we depend on God or are we self-sufficient and refuse any help? Mary and Joseph were humble people and relied on God for all things including to love as they were called to love.
The reflections I experienced are calling ME to active, obedient dependence upon God. "If you do so God will reveal what you are attached to in an attempt to stretch your heart…" Be not afraid for God is longing to help you.
Some of the scripture readings that were suggested in Fr. Mark's Advent meditations are Psalm 139:1-16; 1 John 4; Ephesians 4: 17-24; 1 Cor.13:1-11; Romans 8:18-26; Psalm 63; Luke 12:22-32. There is such a richness in these readings. They reflect on our lives and the lives of Mary and Joseph. As you read them, see how God is calling you deeper into your dependence on Him.
I must confess that there is such a richness in these reflections that I can't do them justice. Should you wish to explore the reflections yourself you can go to Rejoiceprogram.com. Ascension Press is also having a video each Sunday evening to bless the Advent wreath and pray as we light each candle. Information is available on the Ascension Press website. I look forward to sharing this Advent with you.
May your Advent be blessed!
Till next week,
Sister Theresita