Dec 9: Wednesday Reflection
December 9, 2020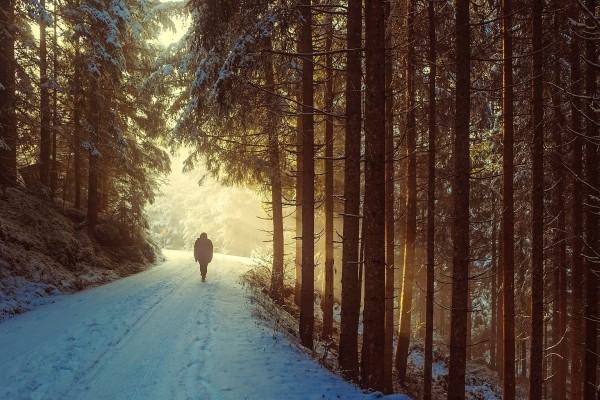 Dear Friends,
As the second week of Advent comes to an end and we move into the third week with 'Gaudete' Sunday, there are many things we have to be joyful for. Let us not forget to celebrate them, for they are gift!
Continuing to journey through "REJOICE! Advent Meditations with the Holy Family," we come to a part that we are familiar with: our lives being rerouted. How many times have you planned what you are going to do or be, then life takes a turn? It may be a sickness or death, a flat tire, a delayed flight or a betrayal. Perhaps a birth, a reunion, a marriage or an unexpected visit changes your life. Most of us have certainly experienced at least one of these events.
What about Joseph? Living in a small town and being a faithful Jew, he thought he had his life planned out. He was betrothed to Mary. They would marry, live in Nazareth, raise a family, and remain faithful to their love of God. But then, came the Angel, Mary's conception of Jesus, the census, no room in the inns of Bethlehem, and the flight into Egypt. So many emotions had to be running through his mind and heart during these times. His whole life was turned upside down. It definitely wasn't going the way he thought it would. In all these situations, he knew where he had to turn.
All these situations required an adjustment in his expectations. Sometimes he needed space or quiet or the willingness to be taught the answer. Mary faithfully supported him through all these upheavals. The author of the advent meditation, Fr. Mark Toups, reminds us, "Life is more like a pilgrimage, for the pilgrimage implies that God is not only the destination but the One accompanying us on our journey."
During this week, take time to remember how you thought your life would turn out. What were your plans? How have things perhaps changed? If your life has been rerouted, how did you deal with it? Are you willing to be taught other ways to approach your life? When was the last time you let someone teach you? Do you give yourself the time and space necessary to deal with the unexpected turn of events in your life?
Joseph is a great example of one who had a deep relationship with God, spent time alone pondering the unexpected things, and learned from Mary how to remain faithful. Pray with him this week. And, be JOYFUL during the third week of Advent.
Till next week,
Sister Theresita