Dec 16: Wednesday Reflection
December 16, 2020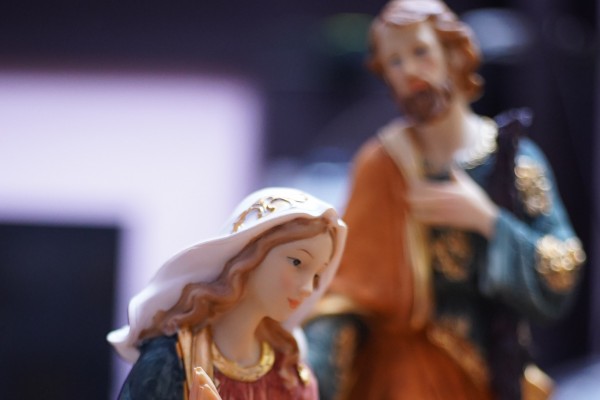 Dear Friends,
We are getting ready to head into the fourth week of Advent. As we continue our journey with Joseph through Fr. Mark Toups' "REJOICE! Advent Meditations with the Holy Family," let us turn to those last days before the birth. Like most of us, Joseph and Mary had expectations on how their lives would play out. We have come to reflect during these past weeks of Advent on how a message from God through an angel changed all of that.
A friend once said to me, "No expectations, no disappointments." I don't think that Mary and Joseph lived by that rule for there were no disappointments, just opportunities. Since they were in a deep relationship with God, they recognized that every change in their plans reminded them that they needed God all the more.
Have you ever found yourself vulnerable and perhaps in the middle of a change? Did you reach out for help? That is a risky situation for you have no control of the response. Perhaps help will come, or it won't. The difference with Mary and Joseph is that in their most vulnerable and challenging of times they knew what they needed -- they needed God. And the response would be consistent for God was always there for them.
All the unknows that Mary and Joseph encountered did not sway their trust in God. They were spiritually grounded. Initially, they may have been fearful but the message of "do not be afraid" reassured them of God's love. During these times of so much uncertainty, what are your needs? Can you name your needs before the Lord? This can place us in a very vulnerable position for we then need to admit that we are limited and weak. In 2 Corinthians 12: 10 St. Paul says "…for Christ's sake, I delight in my weakness…For when I am weak, then I am strong." Are you able to see and know your weakness and ask God for help? In 2020, it can be very hard to admit that we are weak as we have become very self-sufficient.
As we approach the feast of Christmas, let us remember that we have been waiting for a "person not a day!" With this in mind, let go and bring your needs to the crib. I truly know that you will be listened to, for our God is a faithful God.
Till next week,
Sister Theresita