Dec 23: Wednesday Reflection
December 23, 2020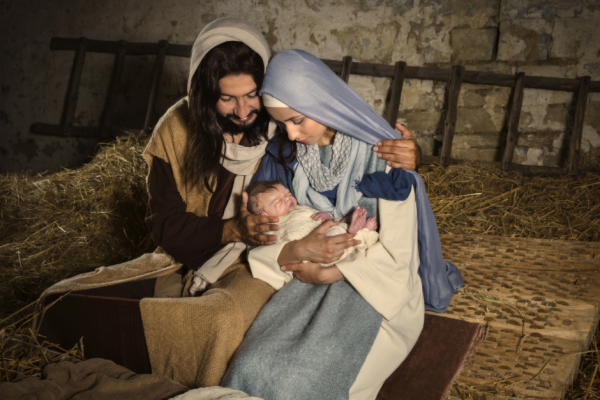 Dear Friends,
Christmas, the Feast of the Holy Family, and the New Year are almost here! Recently, I read something that asked if we are waiting for a day or a person when we think about Christmas. As Christmas Day approaches, I pray that your waiting is for the person. For as Christmas becomes December 26th, if you were waiting for the "day," then Christmas is all over at midnight on the 25th.
Ah, but if you truly waited for the person, there is still so much to celebrate. The person of Jesus comes to us with a new way of living. Since most of us are tired of what 2020 has brought us, there is "a thrill of HOPE" as Jesus once again reminds us of His presence in our lives and in our world. We need more than a day to take in all that is offered to us by His presence. Life and growth is ongoing. If we truly look at Jesus and the Holy Family, we can see the role models that we need so that we can enter 2021 with HOPE and a bright spirit.
The Holy Family led a simple, ordinary life by all the standards of the times and yet there was something extra-ordinary about them. Today, we can be those ordinary yet extra-ordinary people as well. Let me share with you a recent experience of what I mean. This past week I went to have cataract surgery that happened to fall on the morning of the great snowstorm. My dear friend drove me to the hospital. The fact that we made it in one piece was a miracle in itself. As I entered the hospital, I was greeted by cheery folks who had to make the same trip, perhaps even earlier (I arrived at 6:30 am). As I watched them handle patients and cancelations and each other, I was truly impressed. They were ordinary people displaying extra-ordinary attitudes. They made a choice, for there were many things they could complain about. Yet their choice was to be kind, gentle, and understanding to the patients and their co-workers.
Like the Holy Family, they were a community family living out their best selves. For the Holy Family, it was their relationship with God that kept them humble and yet extra-ordinary. I don't know what kept those workers going, but I hope they never lose their spirit. So you see, waiting for a "person" can take you on a new journey, as long as you are willing to grow and change and choose to bring hope, kindness, and love into the lives of others. For if you bring it to others, you can't help having some of that inside of you. You can only give that which you cultivate.
Before the New Year, spend some time looking at your life. Can you find the extra-ordinary in all the ordinary things you do and are? It is possible! We have the example of the Holy Family, as well as some of the people we come in contact with daily. Are you willing to be "a thrill of HOPE" so that the "weary world" can "rejoice"?
Till next week,
Sister Theresita