Feb 3: Wednesday Reflection
February 3, 2021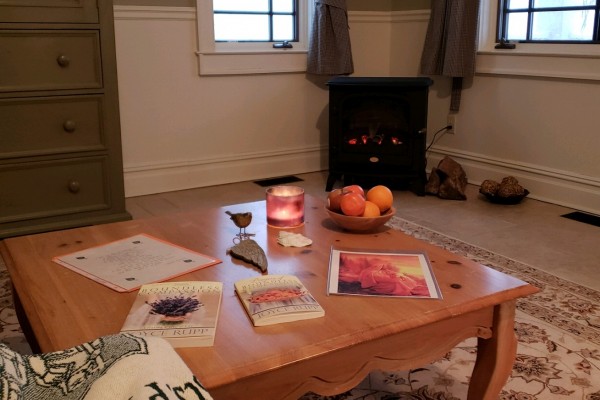 Dear Friends,
Picture this: the first real blizzard, the snow is coming down heavily and the wind is howling… There is a small fireplace that is heating a large room and there I sit, writing my reflection. Lucky me! Due to unforeseen circumstances, I am able to stay in the place I had my annual retreat. Although I have finished my retreat, I get a few more days thanks to the storm and generosity of my friends. Now, on to the matter at hand, the reflection.
As I was finishing my retreat on compassion (remembering last week's reflection), I came across something that finished my time and I thought it dovetailed last week's theme. Joyce Rupp shares a story about a group of leaders that went looking for the Cave of Wisdom. They traveled far and wide and, as most journeys go, experienced different challenges: getting lost, having to ask for directions, bad weather, and some difficult terrain along the way. Finally, they reached the Cave of Wisdom. They are overjoyed as they are greeted by the friendly guard at the entrance. He invites them in, but instead of entering, they reply "Thank you, but we have no time for exploration. We just want to say that we've been here." Then they turned around and headed back the same way they came.
The story hit me like a ton of bricks. I couldn't help but think of the story of the wise Men who searched for the Messiah, perhaps born in that Cave of Wisdom. But they explored and were changed, and went home by a different route. For me the story said, you have come this far and have learned so much about compassion, directed at the self as well as others. Will you continue to explore and go deeper, or are you just going to go back to what was?
Joyce offers this: "The journey of compassion has only begun. So much waits to be discovered, explored, and integrated in to daily living. Compassionate presence will always require taking another step further into personal transformation. This way of life is continually evolving." The book end with the quote that I probably need to put on my mirror, so each morning I can read it. "The guard at the door of your heart invites you to come into the 'cave of compassion.' I hope that you will enter there often and find the treasures that await you."
For me, this has been a different journey, and yet the quotes urge me on. I pray that I can enter many times into that cave of compassion, not only for others but for myself. May your week be blessed, and do something nice for yourself and someone else this week!
Till next week,
Sister Theresita
P.S. The photo is from the place where I am on retreat. If you get a chance, read Joyce Rupp's "Evergreen" poem this week. It reminds me to be "strong, tall, resilient always singing of life."