Third Graders Observe the World Day of the Sick
February 11, 2021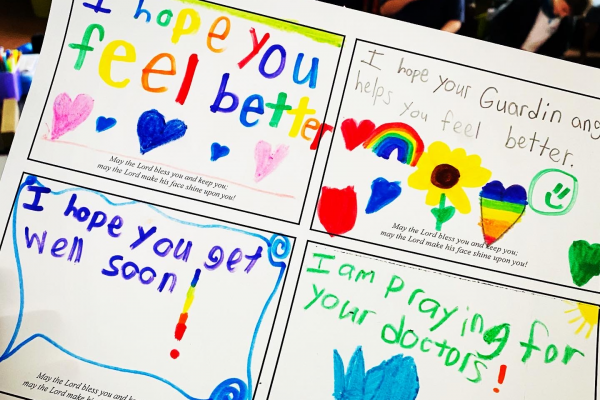 Today marks the World Day of the Sick, a day of awareness first introduced to the Catholic Church in 2002 by St. Pope John Paul II. The intention behind this observance is to offer prayer for those who are ill and, for the sick themselves, to offer one's suffering for the good of the Church. It is no coincidence that this day is observed on February 11th, which is also the Feast of Our Lady of Lourdes, a celebrated Marian vision that has drawn pilgrims to its site in France for decades, many of whom are seeking out healing.
In years past, third graders at St. Gregory Cathedral School in Tyler, TX have observed the World Day of the Sick with a visit to CHRISTUS Trinity Mother Frances, a co-sponsored ministry of the Sisters of the Holy Family of Nazareth. During their visit, the children sang for clinical directors and helped prepare practical gifts for patients receiving cancer treatment as part of a service project through the school's guidance program, overseen by our own Sr. Josephine Garrett. This year, the third grade class was unable to make an in-person visit and instead made it their special project to create greeting cards full of hope and well wishes to be distributed at CHRISTUS Trinity Mother Frances. They also prepared a special video to share!
Vice President of Mission Integration at CHRISTUS Health, Andy Navarro, reflected: "Illness lays bare our human vulnerabilities, which the precise place where God meets us with unconditional love and mercy. Today, we pray for all who are sick and suffering from the coronavirus, as well as, those bound by other infirmities, injustice, hardships, a fragile environment or hard-heartedness. The St. Gregory Third Graders' authentic act of love and thoughtfulness help us extend the healing ministry of Jesus Christ. We thank God for St. Gregory Cathedral School's loving kindness and humbly ask our Lord to heal and restore the sick and injured."
Please join us in offering prayers of health and healing for all those who suffer on this World Day of the Sick, as well as prayers of thanksgiving for the kindness and empathy in the hearts of these young children who give of themselves so that others may smile. God bless them all!