Young women listen for God's call
April 21, 2021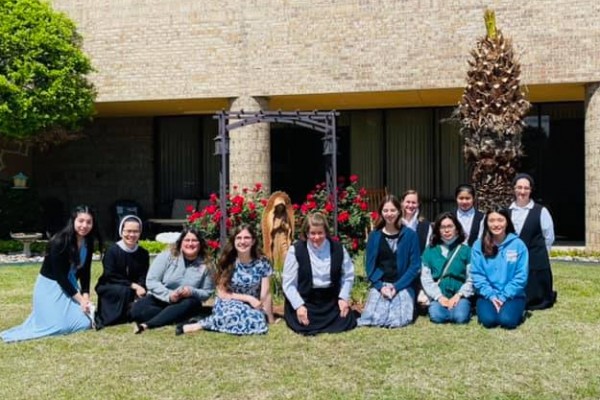 This past weekend, our sisters and postulants in Grand Prairie, TX, welcomed visitors for a Vocations Discernment Weekend!
Following strict protocols regarding social distancing and the wearing of masks to protect both their guests and postulants, the vocations team invited young women over the age of 18 to join them both in-person and virtually for a discernment weekend focused on St. Joseph, a particularly timely topic during this Year of St. Joseph.
The event attracted many young women from a variety of backgrounds, all of whom expressed their great appreciation for the outpouring of prayers and well wishes from our sisters around the country, even though they have yet to meet. As our national vocation director, Sr. Emmanuela Le put it best: our sisters are "our power house of prayers!"
We would like to offer our heartfelt thanks to Sr. Josephine Garret, all of the CSFN postulants, and CSFN affiliate Katie Shelton for their collaboration and commitment in serving the young women this past weekend. Their enthusiasm and love for God and Nazareth are contagious!
The next Discernment Weekend is September 24 – 26 in Grand Prairie, TX. Young women aged 18 and older who would like to learn more about what it means to be a Sister of the Holy Family of Nazareth are welcome to attend. Space is limited to help us maintain appropriate safety protocols. For more information, please visit our Vocations Facebook page, visit our website, or email the vocations team. You may also register for the September Discernment Weekend at Register for Vocation Events.