Our "little sisters"
April 26, 2021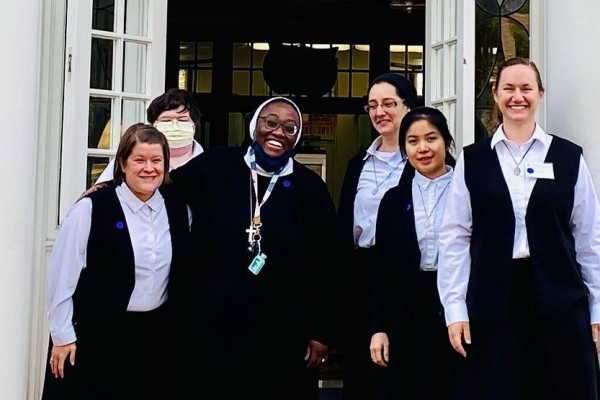 Recently, our postulants were able to spend a week in Tyler, TX, becoming acquainted with the many aspects of hospital ministry. They were able to visit the school where our Sr. Josephine Garrett serves as a school counselor as well as the private practice where she sees clients. They even had the opportunity to meet a visiting bishop whose work they admired!
Sr. Josephine, full of great mirth, introduced the young women to her students as her "little sisters" – causing more than a few questioning glances! But for Sr. Josephine, the familial connection suggested by her words seemed the best way to define their relationship.
As Sr. Josephine herself said, "As the world keeps looking for ways to divide the human family, we are here, profoundly diverse in gifts, temperaments, families of origin, ethnicity, culture and YET we are in fact family." This is the heart of our mission: the Nazareth Family that welcomes all those who seek it, happy to embrace all those who wish to know the Word of God and to discover God's presence together in the everyday.
Sr. Marietta Osinska currently serves as the postulants' director, guiding and mentoring the young women in this stage of structured discernment. If you are interested in exploring how God is calling you to serve, visit Become A Sister. To register for our September Discernment Weekend in Grand Prairie, TX, visit our Vocation Events page.