The feast of St. Joseph the Worker
April 30, 2021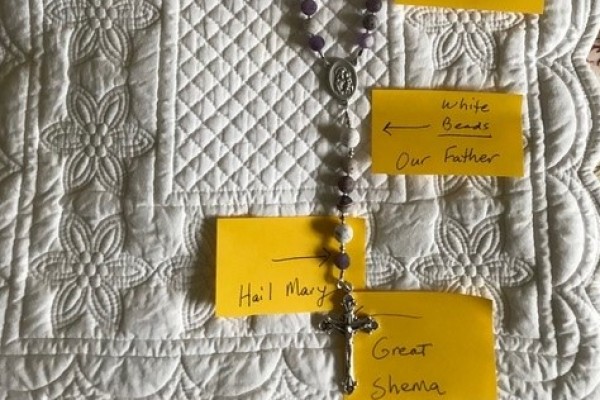 May 1st marks the feast of St. Joseph the Worker, established in 1955 by Pope Pius XII, to honor St. Joseph and to recognize the Catholic Church's commitment to the dignity of labor. This is actually the second feast day devoted to St. Joseph on the liturgical calendar, the first being on March 19th and more focused on St. Joseph's role in the Holy Family. The feast of St. Joseph the Worker instead celebrates the important role St. Joseph played as his family's provider, and as part of a the common good by sharing his talents in carpentry with his community.
Our own Sr. Trina Marie Ulrich created a wonderful chaplet for the feast of St. Joseph the Worker, which she would like to share with all of our Nazareth family. After searching out a ready-made chaplet for this particular feast day, Sister found the available offerings lacking, and set about creating her own.
Chaplet of St. Joseph
as prepared by Sr. Trina Marie Ulrich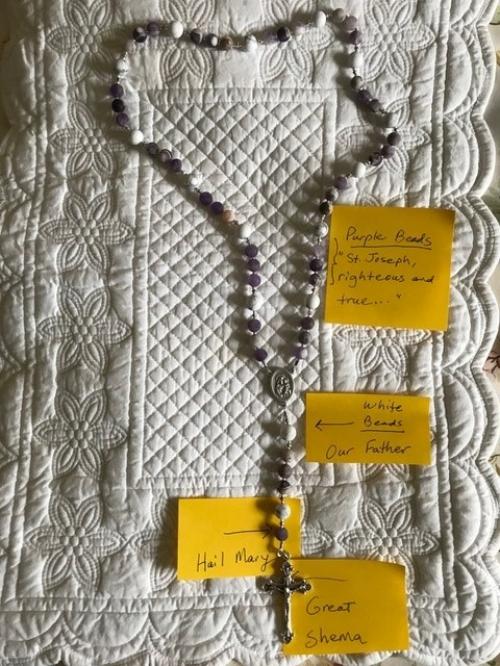 Recite on the cross the Great Shema: "Hear, O Israel! The LORD is our God, the LORD alone! Therefore, you shall love the LORD, your God, with your whole heart, and with your whole being, and with your whole strength. Take to heart these words which I command you today. Keep repeating them to your children. Recite them when you are at home and when you are away, when you lie down and when you get up" (Deut 6:4-7).
On the first purple bead recite one "Hail Mary."
On the first white bead recite one "Our Father."
On the next three purple beads recite three "Glory Be Prayers."
On the following 14 sets, meditate on the following mysteries while you recite an "Our Father" on the large white beads, and on the three smaller purple beads: "St. Joseph, righteous and true, guardian of Jesus and Mary, guide and protect us."
1st Royal blood of David, "Jacob the father of Joseph, the husband of Mary. Of her was born Jesus who is called the Messiah" (Matt 1:16).
2nd Promise Fulfilled, "I will raise up your heir after you, sprung from your loins…I will be a father to him, and he shall be a son to me. Your house and your Kingdom shall endure forever before me" (2 Sam 7:12-14).
3rd Annunciation of Joseph, "Joseph her husband, since he was a righteous man, yet unwilling to expose her to shame, decided to divorce her quietly. Such was his intention when, behold, the angel of the Lord appeared to him in a dream and said, 'Joseph, son of David, do not be afraid to take Mary your wife into your home. For it is through the holy Spirit that this child has been conceived in her. She will bear a son and you are to name him Jesus, because he will save his people from their sins" (Matt 1:19-21).
4th Marriage of Mary and Joseph, "When Joseph awoke, he did as the angel of the Lord had commanded him and took his wife into his home" (Matt 1:24).
5th Birth of Jesus, "Joseph too went up …to the city of David that is called Bethlehem, because he was of the house and family of David, to be enrolled with Mary, who was with child. While they were there, the time came for her to have her child, and she gave birth to her firstborn son. She wrapped him in swaddling clothes and laid him in a manger, because there was no room for them in the inn'" (Lk 2:4-7).
6th Circumcision and Naming of Jesus, "The angel of the Lord appeared to him in a dream and said, 'Joseph, son of David,… you are to name him Jesus, because he will save his people from their sins" (Matt 1:20-21).
7th Presentation of Jesus in the Temple, "When the days were completed for their purification according to the law of Moses, they took him up to Jerusalem to present him to the Lord…The child's father and mother were amazed at what was said about him: and Simeon blessed them…" (Lk 2:22, 33).
8th Flight into Egypt, "When [the magi] had departed, behold, the angel of the Lord appeared to Joseph in a dream and said, 'Rise, take the child and his mother, flee to Egypt…Joseph rose and took the child and his mother by night and departed for Egypt" (Matt 2:13).
9th Return from Egypt, "Behold, the angel of the Lord appeared in a dream to Joseph in Egypt and said, 'Rise, take the child and his mother and go to the land of Israel, for those who sought the child's life are dead.' He rose, took the child and his mother, and went to the land of Israel. He was afraid to go back to [Judea]. And because he had been warned in a dream, he departed for the region of Galilee…in a town called Nazareth, so that what had been spoken through the prophets might be fulfilled, 'He shall be called a Nazorean'" (Matt 2:19-23).
10th Finding of Jesus in the Temple, "As [Mary and Joseph] were returning, the boy Jesus remained behind in Jerusalem, but his parents did not know it. … After three days they found him in the temple, sitting in the midst of the teachers, listening to them and asking them questions … When his parents saw him, they were astonished, and his mother said to him, 'Son, why have you done this to us? Your father and I have been looking for you with great anxiety" (Lk 2:41-48).
11th Father of Jesus, "All spoke highly of [Jesus] and were amazed at the gracious words that came from his mouth. They also asked, 'Isn't this the son of Joseph?" (Lk4:22).
12th Educator of Jesus, "Train the young in the way they should go; even when old, they will not swerve from it" (Prov 22:6).
13th Joseph the Carpenter, "[Jesus] came to his native place and taught the people in their synagogue. They were astonished and said, 'Where did his man get such wisdom and mighty deeds? Is he not the carpenter's son?" (Matt 13:54-55).
14th Provider of the Holy Family, "So Pharaoh said to Joseph: 'Since God has made all this known to you, there is no one as discerning and wise as you are. You shall be in charge of my household, and all my people will obey your command" (Gen 41:39-40).
Prayers to Saint Joseph
Pope Francis' Prayer for the Year of Saint Joseph, 2020 - 2021
Hail, Guardian of the Redeemer, Spouse of the Blessed Virgin Mary. To you God entrusted his only Son; in you Mary placed her trust; with you Christ became man. Blessed Joseph, to us too, show yourself a father and guide us in the path of life. Obtain for us grace, mercy, and courage, and defend us from every evil. Amen.
Prayer of Pope Leo XIII, in his encylical on "Devotion to St. Joseph," August 15, 1889
To thee, O blessed Joseph, we have recourse in our affliction, and having implored the help of thy thrice holy Spouse, we now, with hearts filled with confidence, earnestly beg thee also to take us under thy protection. By that charity wherewith thou wert united to the Immaculate Virgin Mother of God, and by that fatherly love with which thou didst cherish the Child Jesus, we beseech thee and we humbly pray that thou wilt look down with gracious eye upon that inheritance which Jesus Christ purchased by His blood, and wilt succor us in our need by thy power and strength.
Defend, O most watchful guardian of the Holy Family, the chosen offspring of Jesus Christ. Keep from us, O most loving Father, all blight of error and corruption. Aid us from on high, most valiant defender, in this conflict with the powers of darkness. And even as of old thou didst rescue the Child Jesus from the peril of His life, so now defend God's Holy Church from the snares of the enemy and from all adversity. Shield us ever under thy patronage, that, following thine example and strengthened by thy help, we may live a holy life, die a happy death, and attain to everlasting bliss in Heaven. Amen.