Wednesday Reflection - May 5, 2021
May 5, 2021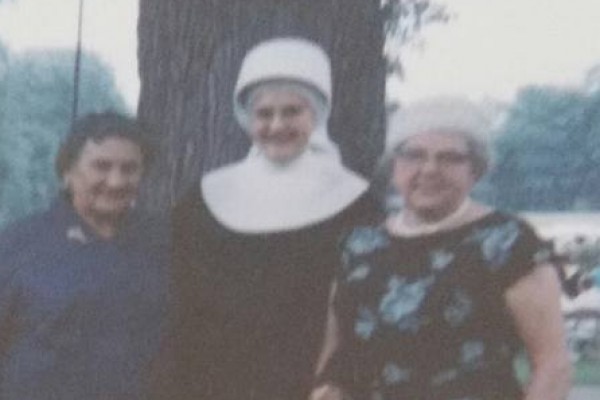 Dear Friends,
Happy Cinco de Mayo! Let us whisper a prayer for all those cultures that celebrate this feast!
May is a rich month. We get to celebrate, crown, and pray to the blessed Mother in a special way this month. It is also a time when we get to remember our mothers, whether living or deceased. We also get to remember and celebrate women who have nurtured us in so many ways.
In an attempt to provide me with some materials for new parents, my friend, Virginia Portanova, gifted me with a book entitled Don't Forget to Say Thank You (And Other Parenting Lessons that Brought Me Closer to God) by Lindsay Schlegel. I want to share with you the last paragraph of the first story that made see how real this book is:
"As a daughter of God, I am called to holiness, but as a mother. I am not called to the religious life. Silent meditations and hours of solitary contemplation are not how I spend the majority of my time. Rather, my vocation is lived on my feet, in my home, in school and church communities and in sometimes monotonous tedium as I guide my children's hearts toward the love of their Father and mine. God speaks here as often as he does in a convent; I need only to develop the ears to hear. In my experience, his voice comes in a whisper rather than the yell I have trouble toning down."
What a beautiful call to motherhood! It reminds us that we are all called to that holiness and relationship with God. No matter what we are about we need to become aware of God's call to us. And we need to remember the story of how Elijah heard God's voice: "… and after this he heard him in a gentle whisper" (1 Kings 19). In the business of our days, the noise can block out God's voice.
To be a mother involves many emotions and experiences, but one thing I know and have experienced are the sacrifices that moms make. They put themselves last when it comes to eating or buying some new clothing, and even when it comes to doing fun family things, she lets her children decide. But all these things can go unnoticed. That is how it can be for lots of us and yet we continue to yearn for that whisper of God that leads us to holiness.
Mary was no different and her call to holiness came to her as quite a surprise. Knowing her story, we know that she experienced all the joys, sorrows, anxieties, and sufferings of being a mom. But she was ever faithful to listening to that quiet whisperings from the God the Father.
This week do something nice for those moms who are still with us. A letter, call, visit can make all the difference and honor those who have died by praying for them or visiting the cemetery if possible. Make someone's day and let them know how special they are.
Till next week,
Sister Theresita
In honor of Mother's Day, Sister Theresita has shared with us these lovely photos of her first day entering novitiate, with her mother and father at her side, and another with both of her grandmothers. Thank you, Sister Theresita!