Our sisters in Monroe, CT help celebrate Father James Cole's 50th Anniversary
May 17, 2021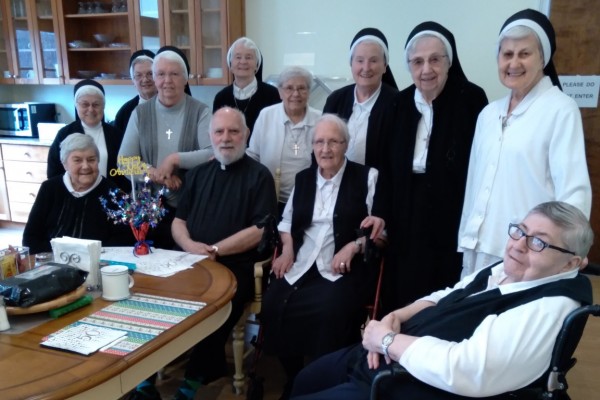 On May 15, 2021, the sisters in Monroe, CT were honored to celebrate the 50th Anniversary of Priesthood of Father James Cole, our chaplain at Monroe, who has served us for 23 years. After Mass, Father joined us for a festive celebratory meal.
Father has long celebrated daily Mass with our sisters, even while using special precautions during the pandemic, and is well known for delivering inspiring homilies. He also officiates at the funeral Masses of our sisters and delivers conferences to the sisters on specific retreat days. Our sisters are very grateful to Father for his dedicated service. He is considered a gift and blessing for his faithfulness and goodness!
During his homily at the Anniversary Mass, Father centered on the fitting Bible passage from Hebrews 7:17 – "You are a priest forever of the order of Melchizedek".
Congratulations, Father Cole! Ad Multos Annos!