A Jubilee Celebration in Elmhurst, NY
June 21, 2021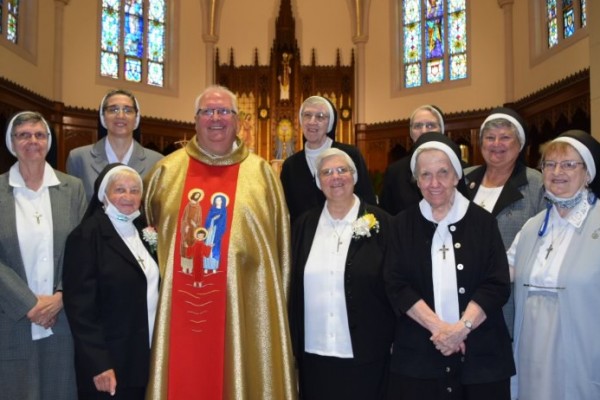 Earlier this month, Sr. Anthony Gracyalny and Sr. Joanne Mary Goscicki both celebrated jubilees at St. Adalbert's Church in Elmhurst, NY. Sr. Anthony celebrated 70 years, while Sr. Joanne Mary celebrated 50 years! Many of our sisters, as well as family and friends of Srs. Anthony and Joanne Mary, were there to join in this blessed celebration.
This special occasion was made all the more wonderful by the presence of Msgr. Thomas Machalski, Jr. as the main celebrant. Msgr. Machalski is a graduate of Holy Cross school in Maspeth, NY where our sisters taught for many years, and was even a first-grade student of Sr. Anthony's! Msgr. Machalski was also a seventh-grade student of Sr. Colette Wojciak, who is also celebrating her jubilee of 70 years.
Sisters in the photo (L-R), front row:
Sr. Ellen Zak, Sr. Anthony Gracyalny, Msgr. Machalski, Sr. Joanne Mary Goscicki, Sr. Agnese Palczynski, Sr. Frances Marie Wystepek.
Back row (L-R):
Sr. Teresilla Kolodziejczyk, Sr. Michelle Bremer, Sr. Karolyn Stobierski, Sr. Theresita Donach.