Wednesday Reflection: July 14, 2021
July 14, 2021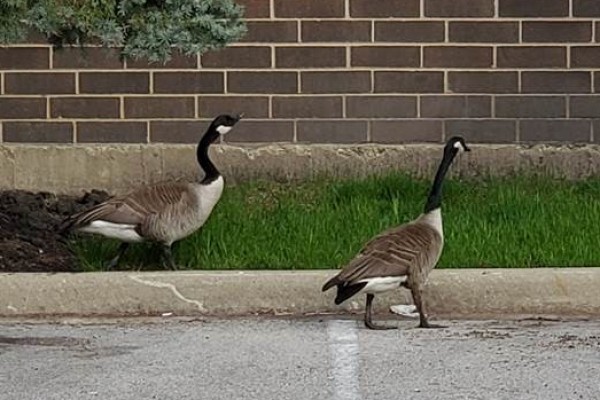 Dear Friends,
I enjoy history, especially European history. As a matter of fact, my major was European history for my first degree. I love the richness and stories. So, when an article came across my desk, "Why did Early Christians Call the Holy Spirit the Wild Goose?," I could not resist reading it. You might be familiar with the term "wild goose chase" and its definition "a hopeless search for something that is impossible to find".
How does all this fit into the early Christians and their understanding and naming of the Holy Spirit? We are used to referring to the Spirit as a dove or a fiery flame. History tells us that the Christians saw the goose as of symbol of vigilance, wisdom, and appreciated their unexpected interventions. Not sure if you have experienced any geese up close, but believe me, they are vigilant and better than a watch dog. You see, if they feel threatened the will honk till they are find themselves safe. The article I mentioned also says, "The Celtic believers in the British Isles saw the Holy Spirit as unpredictable, upsetting the status quo and leading people toward a new adventure with God."
I like the images of the Holy Spirit as a gentle dove coming silently, planting those seeds of wisdom deep within us. I also like the early images of the Holy Spirit being a rambunctious goose, shaking us up a little, disturbing the status quo, and injecting the fire of God's love.
What has been your experience of the Holy Spirit? It is worth taking a walk down memory lane to see how the Spirit has worked in your life. If you are anything like me there may have been some dove like times and if you are lucky some goose times, too. Personally, I think we need them both.
In relation to the Gospel, we see how the Spirit has behaved in both situations. In John 3:8 we read, "The wind blows where it wills and you can hear the sound it makes, but you do not know where it comes from or where it goes; so, it is with everyone who is born of the Spirit." There is no doubt in my mind that as the Apostles and disciples went out to preach the Word, they experienced both dove and goose. How about you? When, where, and how do you experience the Holy spirit? Have a prayerful and exciting week!
Till next week,
Sister Theresita
PS: The above photo was taken by our finance director, Sr. Arlene Gibson, SSND, last year. A family of geese stopped by her home for a visit during the shelter-in-place mandates. They even came up and knocked on her door.