Wednesday Reflection: September 1, 2021
September 1, 2021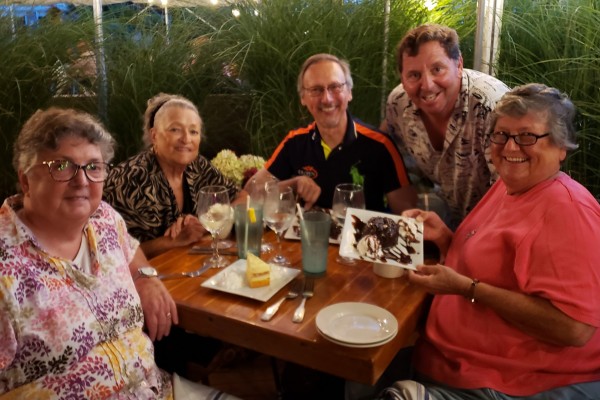 Dear Friends,
It is so hard to believe that it is September already! Where did the summer go? For me it went too fast, but I was able to catch a week of vacation. Thanks to the generosity of my friend Sara Adams, I spent a week on Long Beach Island in New Jersey with my friend, Sr. Jeanne Marie Gocha, CSJ. What a delight! And per usual, I visited my favorite restaurant, Blue Water Café, and owner/friend Steve. We met many years ago when I was working in Rhode Island. Something he wrote to me is what I want to share with you. Let me tell you the story.
I usually get to see Steve only once in a while on the Island, but this year was a little different. I visited the restaurant three times with different guests. To my surprise and delight, each time I arrived the table was decorated with flowers and the water glasses were already filled and waiting for us. As usual, the hostess and servers were a delight and we renewed friendships. Steve always asked if they gave us the gold treatment. When I was there with my cousin and aunt, he sent out appetizers and desserts. Talk about feeling special!
When I returned home, I sent him a text thanking him for treating my friends and me so royally. His response to me was "You are God's Royalty." I was speechless. I could not reply but can't stop thinking of what he wrote. I share the story with anyone who will listen because it was so powerful for me on different levels. I started to think: do I act like God's Royalty? How do I treat others? What kind of example am I to others? Can I easily forgive others who have hurt me? All sorts of questions kept coming up the more I thought about it means to be "God's Royalty."
Sometimes I don't think I act royally, and I am starting to recognize that quicker and quicker. What I have found is that acting royally can at times defuse a situation or change a response. But this is NOT always easy! The more I thought about it, the more I realized that being royalty meant being the child of God. I need to act as Jesus would, since he was the role model of royalty. All I can do is continue to treat others as I would like to be treated. I may fail, but I can always try again.
How do you live your life? Are people able to recognize the fact that you are God's royalty? Do you treat all creatures with respect as well as the earth? This is a tall order but then again, royalty has its responsibilities. Your baptism has brought you into the realm of royalty. How do you live out those promises? Lots of questions that only you can answer. I know I won't forget Steve's response: "You are God's Royalty." Have a great week and remember to treat all as if they were royalty.
Till next week, Happy Labor Day,
Sister Theresita
P.S.: This is a photo we took one night at Blue Water Café. Pictured from left to right are my friend, Sr. Jean Marie, CSJ; my Aunt Penny; my cousin Martin; Steve, the owner of Blue Water Café; and me. And that scrumptious dessert is chocolate lava cake!