Wednesday Reflection: November 17, 2021
November 17, 2021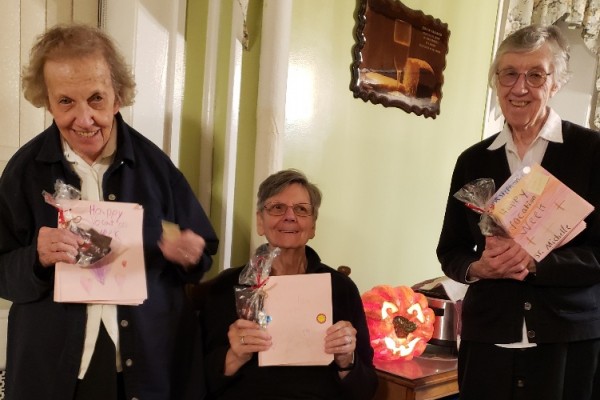 Dear Friends,
The past week was National Vocation Awareness Week. I took the opportunity of my weekly visit to the second graders to teach them a new word and have some fun with it. The word was vocare - to call. We then talked about the different vocations in life, priesthood, religious life, marriage, and consecrated single life. In thanksgiving for myself and the Sisters, the children made cards for us, and along with a treat from a local restaurant and a cake baked by a wonderful school secretary, we ended the week in royal fashion.
Vocare. To Call. I started thinking: what are we called to? For us as Sisters of the Holy Family of Nazareth. we are called to build the Kingdom of God where we are, with and for families. I asked some people what they were called to, and one Sister sent me the beautiful response I share with you now:
"Jeremiah's response to God's call was: "I am too young! I don't know how to speak." And the Lord answered him saying: "Do not be afraid. I will be with you. I will put the words in your mouth."
How often have I now said "I am too old! I was more adventurous when I was younger." However even today the Lord's response is: "Do not be afraid. I will be with you."
Young or old, whatever I am called to do, I have God's promise: "I will be with you." Could I ask for a more faithful companion?"
Sr. Mary Bernard Wiecezak
After reading this I realized that it is really an attitude we are being called to, not so much what we do but how we do it. So, the things we are called to do, in what spirit do we do them? Are we able to be positive? Does negativity come through? We do have a choice. Someone once said when we cook, we need to do so with a happy spirit as it affects the tase of the food. (Thus, I sing when I have a lot of vegetables to chop!)
As we look at who we are now, we may have to say with Jeremiah, 'I am too old'! Are we able to give up things we were used to doing and settle for those things we can do, remembering that all the time it is a matter of attitude?
We are coming to the end of the church year and a new one is upon us this Advent. How will we greet this new year of responding to call? What will be our attitude? This week check your attitude as well as gratitude meter. What does it register?
Till next week,
Sister Theresita
P.S.: Happy Thanksgiving to those who read this before the holiday of gratitude!