Novice's Feast Day
November 16, 2021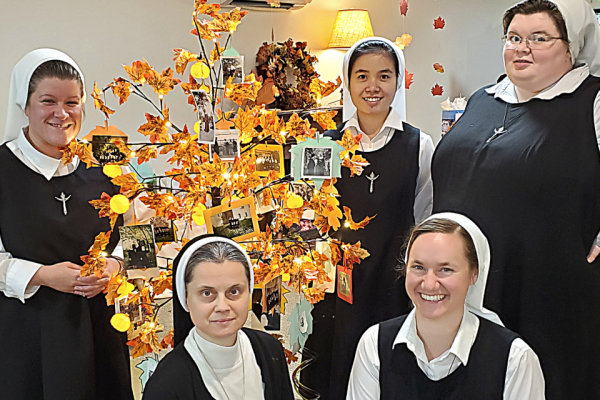 November 13th marked the feast of St. Stanislaus Kostka, celebrated by religious congregations around the world as the Feast Day of Novices. St. Stanislaus himself was a Jesuit novice when he died at the age of 17, and is widely accepted as the patron saint of novices. His faith was so great that even after he had passed, the stories of his piety worked in the heart of his older brother, Paul, and led him to become a Jesuit himself. The Sisters of the Holy Family of Nazareth, like many congregations, celebrate this as the Feast Day of Novices, holding special significance this year following the acceptance of four new novices into the congregation.
Sr. Therese Marie, Sr. Esperanza Marie, Sr. Mary Clare, and Sr. Molly Bernadette have begun their two-year period of deep reflection at our provincialate in Des Plaines, IL. We ask that during this special time of year, you join all of us in prayer for our novices, as they continue to grow and explore their vocation. We are so pleased that the Lord saw fit to lead these young women to our congregation and our Nazareth Family. We look forward to the good works they will do in the name of the Holy Family.
Please join us in prayer for our novices, and in thanksgiving for the example St. Stanislaus set for all young religious to follow!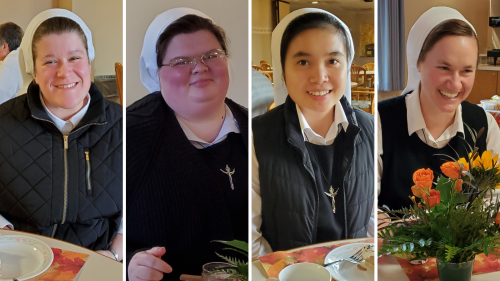 Dear Lord, we ask of you wisdom and guidance for young novices around the world. We give thanks for St. Stanislaus, who left behind his worldly life to follow your call. We are grateful for those who choose to follow his footsteps into consecrated life, and ask that they, and we, may always live a life of devoted and joyful service.
We ask this in the name of Jesus Christ. Amen.