Wednesday Reflection: December 22, 2021
December 22, 2021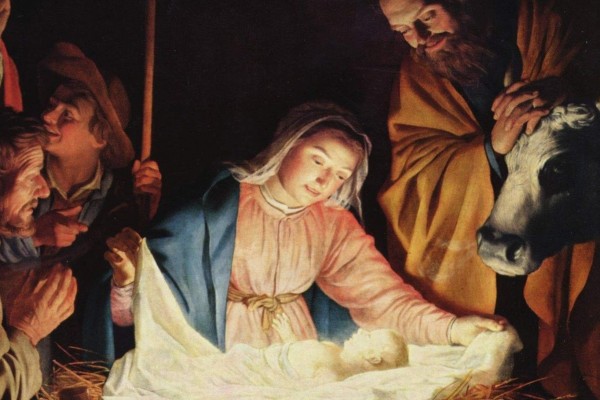 Dear Friends,
Christmas is right around the corner, as is the Feast of the Holy Family! As our Community, Sisters of the Holy Family of Nazareth, celebrates this day, know that we will be keeping all of you in prayer. May you and your families feel the presence of God in your lives, today and always.
In our Advent Journey, we have made it to Bethlehem. Somehow Christmas seems to come so fast so matter how we plan. As we celebrate Christmas there are so many wonderful things to reflect on but did you ever think of the virtue of humility as one of them? Today as we look at the Holy Family, which is completed with the birth of Jesus, ask yourself: do I possess that virtue? You may recall that as we started Advent, we spoke of Christmas as a personal or life-changing event. If this is to happen, then we need to look inside our hearts and ask for the grace of humility.
For some of us, during this time of year with all its preparations, celebrations, and family gatherings, we may experience a sense of self sufficiency because of our comfortable situations. Do we really need a God to save us? Do we really need a Savior to be born? For most of us, the birth is an event that happened in the past. If that is the case, then Jesus will always remain a baby, and the day after Christmas, we go back to our normal comfortable everyday lives. Do we really need a Savior? In all humility, I need to respond: YES!
Life can be difficult and have its challenges, and there can be many times when we can find ourselves overcome by the situations we are in. The good thing is, for unto us a Savior has been born. We need to know that we can rely on God, for He is always there. There will be times that our comfortable lifestyle will not be able to give us comfort in time of need; to whom do we turn? Despite our current situation in life, one needs to open their heart and allow the virtue of humility to blossom there.
One more thought I would like to offer: if we can think of Christmas as ongoing, and that Jesus is born each and every day, then we can celebrate that gift of Jesus our Savior coming to us in so many ordinary ways, through other people and events that we may encounter. We begin to recognize God in the ordinary, and that is humbling. I pray that this week will bring you some time to reflect on what has happened and what is possible if we cultivate that virtue of humility and see Jesus as our Savior. We can't do it on our own, folks!
Merry Christmas, and Happy Feast of the Holy Family. I ask you keep our Sisters in prayer and we will do likewise.
Till next week,
Sister Theresita