Dec. 26, 2021 – Feast of the Holy Family of Jesus, Mary and Joseph
December 26, 2021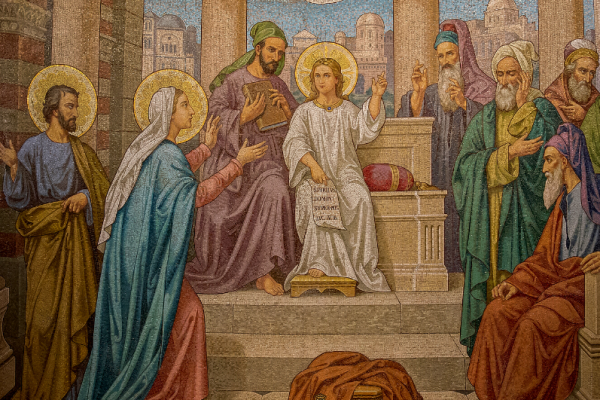 Luke 2:41-52
Today's Solemn Feast, just one day after the glorious celebration of Christmas, focuses on Jesus, Mary, and Joseph as the Holy Family. Joseph, the just man, was also pious and had taken His family to the traditional feast in Jerusalem. Jesus becomes lost in the temple while Mary and Joseph each thought Jesus was with the other. Jesus' being "lost" in the temple may serve as a prefiguring of the time of His suffering and death, which occurred near the very same type of temple.
The use of the "Finding in the Temple" on the Solemnity of the Holy Family serves as a sacred opportunity to look upon Mary as the ultimate caring mother who calmly seeks for her son and Joseph, the holy man, who always does what the law prescribes or as he is directed by an angel to do. Jesus was indeed in the best of hands when it came to the parents His Father in heaven had planned for him!
We reflect today on the love, goodness, and kindness found within each family who places God at the center of their lives and actions. Picture the family that attends Mass together each week and the family who prays each night, even with just a simple word to God together. Think of the family who has little material wealth but does its best to give the children everything they need, perhaps even including a Catholic education. Picture too the family whose parents realize they cannot give their children everything the neighbors can, but they are happy in being together and giving worship to God, placing HIM first.
In the daily struggles and joys of family life, today's feast of the Holy Family brings hope that God is in charge and He will make all things new. Families make God visible in this world through their gestures of forgiveness, love, sacrifice, and service. O Holy Family, bless and protect all the families of the world. Preserve their unity, dignity, and integrity, we pray. Happy Feast Day to all families who join the Sisters of the Holy Family of Nazareth on this, their congregational feast day!
Sister Diane Marie Corrado, CSFN