CSFN Presence in Ukraine
February 25, 2022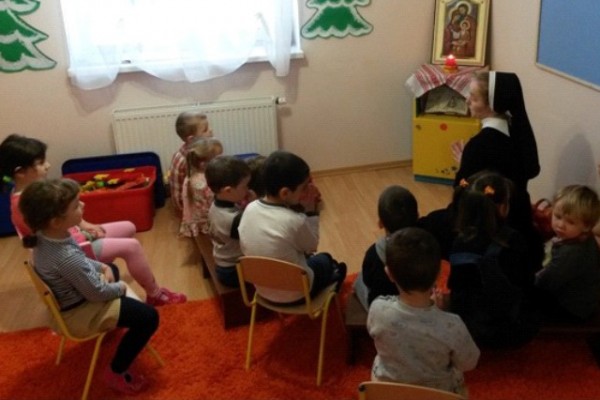 Our mission in the present territory of Ukraine has a long history. Before World War II, Sisters fulfilled apostolates in Lviv, Rivne, and Stryj. A house was built in Lviv in 1892, during the life of Mother Foundress. Cecilia Ta?ska studied in our school in Lviv. She was the daughter of Adam Siedliski, the brother of our Mother Foundress. In the Lychakiv Cemetery in Lviv is a tomb of the Congregation.
Nazareth returned to the area after the collapse of the Soviet Union in 1991 and the formation of Ukraine. On September 13, 2014, in Kyiv, in the presence of the General Administration and almost all of the Provincial Superiors of the Congregation, a new administrative unit was established – St. Michael the Archangel Region in Ukraine. This new administrative region was comprised of 5 communities and 17 Sisters from the Cracow Province and 1 community with 6 Sisters from the Warsaw Province. Among them were 6 Ukrainians and 17 Poles. As Nazareth Sisters, we see a lot of work ahead of us. We trust that God's grace will support us in spreading the Kingdom of God's love on the beautiful Ukrainian soil.
The pictures in this video convey the varied ministries of our Sisters in Ukraine. May God protect them, their families, and all they minister to.
Would you like our sisters to pray for your intentions? Send us a prayer request.