Gospel Reflection: April 3, 2022 - Fifth Sunday in Lent
April 2, 2022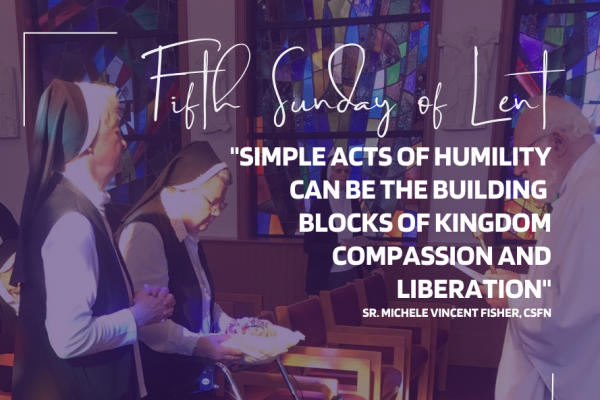 John 8:1-11
We live in an age of shaming. The scribes and Pharisees in today's Gospel are more interested in shaming the woman and using her to trap and shame Jesus, than in actually stoning her.
Jesus, so fully compassionate, bends low and writes on the ground. The act of bending down and not using his stature or his eyes to add to the woman's shame makes a powerful statement, stunning the crowd into silence amid the escalating violence.
In that moment of awkward silence, Jesus rises and speaks: "Let the one who is without sin cast the first stone."
The Gospel goes on to state: "And in response, they went away one by one, beginning with the elders. So he was left alone with the woman before him."
I wonder what might have happened if Jesus' words had been allowed to pierce the hardened hearts of those men. What if, even one of them, would have stopped, lowered themselves to the ground and said to the woman: "Forgive me, I am a sinful man!"
Simple acts of humility can be the building blocks of Kingdom compassion and liberation.
Sr. Michele Vincent Fisher, CSFN