Gospel Reflection: April 16, 2022 - Holy Saturday
April 16, 2022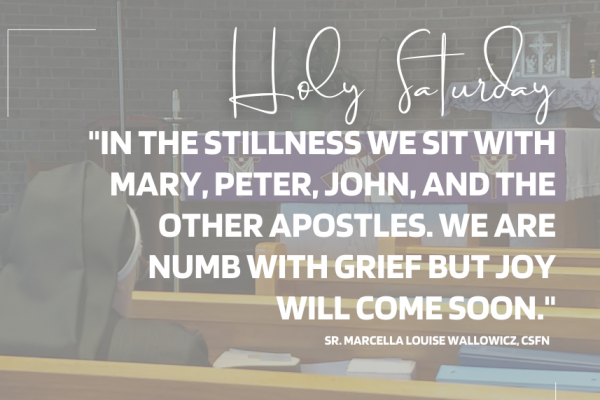 Today, we commemorate Holy Saturday. The churches are empty today. The Eucharist has been removed from the tabernacle. The tabernacle doors are wide open. Jesus is not here and we feel His absence.
If you have experienced the death of a loved one, then you know how somber and numbing is the period of time between their death and funeral. Time has come to standstill. You merely "go through the motions" until you are able to put closure on the person's passing.
Holy Saturday is that interlude between Good Friday and Easter Sunday. Our own experiences with death enable us to understand the confusion and dejection the Apostles experienced after the Lord's death.
An ancient homily on Holy Saturday describes a great silence on earth today. The King sleeps; but while He sleeps in the tomb, He visits and frees those who dwell in darkness and the shadow of death. Today we contemplate Jesus in the tomb, but soon that tomb will be empty - and remain empty. One day we, too, will be in the embrace of Jesus. Death will change our life, but not end it.
In the stillness we sit with Mary, Peter, John, and the other Apostles. We are numb with grief but joy will come soon. At tonight's Easter Vigil we will encounter Our Risen Lord, who spreads His peaceful light on all creation, dispelling the darkness of these past few days.
A Blessed Easter!
Sr. Marcella Louise Wallowicz